Great Park Numbers Game; Pelican Hill's Prize; OCers for AFI
Sunday, June 2, 2013
Share this article: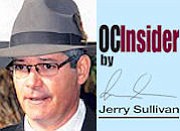 A recent marketing package intended to entice retailers to Irvine Company developments in the Spectrum include an interesting tea leaf for anyone trying to read how FivePoint Communities' residential plans at Great Park will turn out. The marketing material talks up expectations that 50,000 new residents will arrive in the Spectrum's retail draw area over the next five years or so—and counts on 9,500 units of housing at Great Park for a good chunk of that growth. That's a good deal closer to the 10,700 units that FivePoint's boss, Emile Haddad, is looking for in talks with the city of Irvine.
The developer has offered to put more than $200 million toward development of the actual public park at Great Park in exchange for a hike from the 5,000 housing units already approved. A new City Council majority looks to be hell-bent on putting the FivePoints through a few paces before anything is final. Seems the marketplace is nonetheless moving ahead, with 9,500 units as a working premise. See our story on the bold projections for the Spectrum on page 1 …
Irvine Co. certainly showed boldness when it went ahead with the opening of Pelican Hill just as the Great Recession took full hold in 2008. The Newport Coast resort and its golf course have gone on to rack up recognition as a leading luxe destination, and a recent visitor reports that business was more than brisk during the recent Memorial Day weekend and on pace to stay that way, with summer bookings at an all-time high. The place is said to be doing very well with relatively small business groups—wealth management firms and high-end auto dealer groups, to name a couple of examples.
California remains a top draw, with many visitors able to get the full luxe feel without having to run the gantlet at the airport. Lots of international visitors, too, with the Middle East, Europe and Australia represented, along with various Asian countries, including China (see related story, page 1) …
Hollywood Ties: for a trio of OCers who have been named founding members of the National Council for the L.A.-based American Film Institute. Wylie Aitken, Moti Ferder and Deborah Bridges will "serve as ambassadors" and "provide advice and counsel on the institute's national goals, support its programs and connect AFI leadership with key advocates across the country"…
Matching set: Concordia University in Irvine has one of those, now that its softball team has won the NAIA national championship. The Eagles claimed the crown with an 8-3 win over Spring Hill College of Mobile, Ala., last week. The trophy can go alongside the hardware their male colleagues brought home in 2011, when they took the NAIA baseball championship—a title that also came with little local fanfare …
Kudos: To James "Watty" Watson of CT Realty Investors and his old boss, the late Don Koll. Both were honored by the Orange County Council of the Boy Scouts at the 9th Investment Real Estate Luncheon at the Irvine Marriott last week. Watson got the Good Scout Award for his contributions to the "enhancement of the community" and volunteer efforts for the local chapter. Distinguished Eagle Scout Award recipient Koll was recognized with a video and formal dedication of Koll Mountain at the Irvine Ranch Outdoor Education Center, a property owned and operated by the Boy Scouts OC chapter.