Midday Stock Roundup
Wednesday, July 31, 2013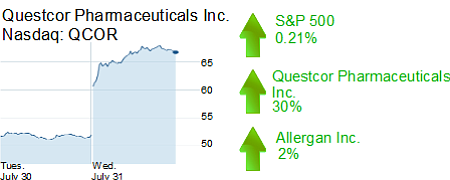 The S&P 500 rose 0.21% to 1,689.43 in afternoon trading Wednesday.
The Dow Jones industrial average was up 0.08% to 15,533.70, while the Nasdaq was up 0.36% to 3,629.63.
The yield on a 10-year Treasury bond rose 1.96% to 2.65%.
The price of gold fell 1.06% to $1,310.70 per ounce.
HEALTHCARE
Anaheim-based drug maker Questcor Pharmaceuticals Inc. shares jumped nearly 30% to $67.43, a day after reporting better-than-expected, second-quarter results and strong sales of its sole drug H.P. Acthar Gel. Shares of Questcor, which has a market value of about $3.9 billion, were trading at roughly five times its average volume with the company's stock up about 43% since the start of the year.
Irvine-based drug maker Allergan Inc. rose about 2% to $92.44, after beating Wall Street estimates on its second-quarter results. Allergan had a recent market value of $27.4 billion.
Irvine patient monitor maker Masimo Corp. shares were off about 2% to $22.88 ahead of its expected second-quarter earnings release after market close on Wednesday. Wall Street analysts expect second-quarter earnings of $16.24 million on revenue of $136.36 million. Masimo had a recent market value of $1.3 billion.
REAL ESTATE
Irvine-based real estate investor Sabra Health Care REIT Inc. was off about 4% to $26.20 for a market value of $978.12 million. Sabra is expected to report its second-quarter results after market close.