CommerceWest Q2 Earnings Up
Tuesday, July 30, 2013
Share this article: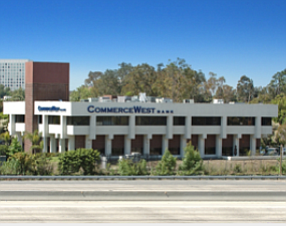 Irvine-based CommerceWest Bank reported net income of $1.4 million in the second quarter, a 37% increase from the year-ago period.
Growth in interest and noninterest income helped boost earnings.
The bank had $2.8 million in net interest income, up 13% year over year. Its noninterest income rose 70% to $1.6 million.
CommerceWest saw its assets grow 3% over the past year as of June 30, to $338.8 million. The total included $185 million worth of net loans, a 15% increase from a year ago.
Noninterest-bearing deposits grew 37% over the year to $131.8 million at the end of June. Interest-bearing deposits summed up to $149.6 million, down 18%.
Chairman and Chief Executive Ivo Tjan said the bank, which for the past several quarters has worked to improve its interest margin, is looking to "focus for the remainder of 2013 on growing loans, deposits and assets."