REAL ESTATE: 4-BUILDING TRADE WITH BURNHAM IN NEWPORT CENTER
Irvine Company in Rare Property Swap
Sunday, July 28, 2013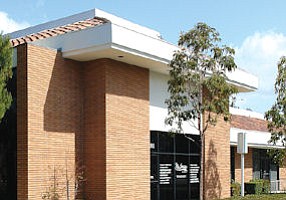 Four low-rise buildings in Newport Center—Orange County's most exclusive and expensive office market—have seen an ownership change without a single dollar trading hands.
Newport Beach-based Irvine Company and Burnham USA, the two largest office landlords in the high-end office market surrounding the Fashion Island shopping center, recently completed a multibuilding office swap.
Irvine Co. took over ownership of two buildings along San Joaquin Hills Road that are immediately behind the real estate investor and developer's headquarters at 550 Newport Center Drive.
The two medical office buildings, at 2071 and 2101 San Joaquin Hills Road, total about 40,000 square feet and were owned by Burnham USA.
Corporate Plaza Complex
Burnham USA, in turn, has taken over ownership of a pair of two-story buildings that were previously part of Irvine Co.'s Corporate Plaza office complex on Avocado Avenue.
Those two buildings, at 24 and 26 Corporate Plaza Drive, total a little more than 80,000 square feet of traditional office space and have a variety of smaller businesses as tenants.
The transaction is a rarity on several fronts.
Few offices ever change hands in the glitzy Newport Center area, which commands the highest rents of any office market in the county.
"It's such a boutique market, almost like retail space on Rodeo Drive," said Andy White, senior vice president for the Irvine office of brokerage Jones Lang LaSalle. "It's the most robust (office) market in Orange County."
Other Rarities
It's even rarer for Irvine Co.—OC's dominant office landlord—to give up ownership of any of its buildings, particularly those in Newport Center, where it owns the bulk of the region's higher-end space.
Also a rarity: the lack of money changing hands in the transaction.
Irvine Co. executives said the transaction—which property records show being completed earlier this month—was a straight swap.
Burnham USA officials declined to comment on the transaction, citing confidentiality agreements.
The four buildings would likely command a combined sale price of at least $50 million on the open market, assuming a $425 per-square-foot price average for the offices.
But getting a gauge on sales pricing for the Newport Center is tough, as so few buildings in the area come to market.
"Any deal there is more of an opportunity buy (than a traditional investment)," Jones Lang LaSalle's White said.
Other smaller buildings in the immediate area have traded at prices in excess of $600 per square foot in the past few years, according to brokerage data.
Prev Next