HOSPITALITY: SPECIAL SERVICER PAYS $36.2 MILLION
Bargain Price Still Biggest for Hotel This Year
Sunday, July 28, 2013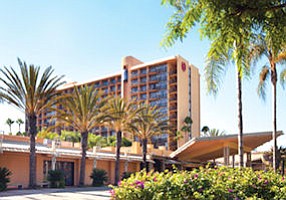 Sheraton Park Hotel at the Anaheim Resort, a 490-room hotel next to the Anaheim Convention Center, has traded hands in one of the larger sales of a distressed real estate property Orange County has seen this year.
An affiliate of Maryland-based CWCapital Asset Management LLC recently took over ownership of the 13-story hotel, OC's ninth-largest by room count.
Sheraton Park Hotel had $88.5 million of debt tied to it, but CWCapital––one of the country's largest asset managers and special servicers for distressed real estate properties—paid just less than $36.2 million to take over the property, according to records from a June 28 trustee's sale.
The sale is nonetheless the largest for an Orange County hotel this year, according to Alan Reay, president of Irvine-based consultancy Atlas Hospitality Group.
A change in ownership isn't too much of a surprise.
The Sheraton had been listed as one of CoStar Group Inc.'s "largest underwater hotel properties" for more than a year. The debt had a maturity date of June 2017, according to CoStar records.
More interesting will be the long-term plans of the hotel's new owner, according to Reay.
Most special servicers that take over ownership of an underwater property typically want to get a property off their books as quickly as possible, but CWCapital "is a more entrepreneurial type of special servicer," Reay said.
Reay said his understanding is that the new owners plan to first improve the operations and financial performance of the hotel before moving ahead with another sale.
Officials at CWCapital, which has an office in Irvine, could not be reached for comment.
Newport Beach-based Rim Hospitality, which was selected to manage the hotel in January, is expected to continue in that role.
Sheraton Park Hotel is at 1855 S. Harbor Blvd., on the same block as the convention center and within walking distance of Disneyland.
The 305,000-square-foot hotel has about 26,000 square feet of meeting space, 11th-most of any OC hotel.
Property records show an affiliate of Boise, Idaho-based Western Hotel Properties LLC being the hotel's last owner.
In 2005, Western Hotel Properties announced a planned $32 million renovation to the 11-acre property. Following the renovation, the hotel—previously called the Coast Anaheim Hotel—was turned into a Sheraton.