TIME ON MARKET SEES BIG DIP FROM YEAR EARLIER
Positive Perception Beats Summer Lull on Luxe Sales
Saturday, July 20, 2013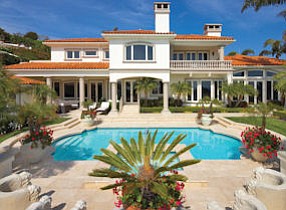 Orange County homes priced at $4 million or more are selling at a faster clip this summer than the same time a year ago, continuing the trend set during the faster-paced spring buying season.
Homes in lower Newport Bay are staying on the market just 78 days, compared to 161 for the same period last year, or nearly 52% less, according to Teles Properties' Mirco Market Report.
The drop is even more dramatic in Newport Heights, at 66%—or 34 days on the market versus 101 a year ago. Turtle Ridge homes are on the market 47 days compared to 90 days, a 48% decrease.
Gary Legrand, president of Orange County-based Surterre Properties Inc., credits the change in part to buyers' perceptions.
"Perception is reality," he said, "and the perception is positive."
Inventory has decreased slightly, upping the ante for interested buyers.
Shadow inventory has virtually disappeared in the luxury market, and most underwater homes have already traded hands.
Surterre's offices closed 558 luxury home sales in 2012, and 25% of the deals were foreclosed properties. Surterre has listed just two foreclosures so far this year.
Things are slightly different in the $20 million-plus division, where there's more inventory than ever. The new beachfront development in Dana Point, the Strand at Headlands, as well as homes in Laguna Beach's Emerald Bay and Newport Coast's Pelican Hills are driving factors behind the increase in homes available in the ultra-high-end market.
French Normandy Estate
The French Normandy estate at 7 Canyon Rim in Pelican Hill sold on July 11 for $4.6 million.
It was originally listed in June for $6 million.
The 6,800-square-foot home, which has five bedrooms and 6 ½ baths, has views of the canyon and city lights and partial views of the ocean.
The estate is crowned by a slate roof and sits on a 22,000-square-foot lot.
Ron Felsot of Prudential California Realty represented the seller and the buyer.
Irvine Cove Sale
The five-bedroom oceanfront home at 135 Irvine Cove Court in Laguna Beach sold on July 10 for $9 million, short of its $11 million asking price in December.
The Mediterranean-style estate is one of 108 homes in a guard-gated beachfront community and has ocean views from all major living areas and from the master retreat. Yet it maintains its private setting.
The 8,700-square-foot home sits on more than half an acre.
Brandon Marchione of Surterre Properties represented the seller, and Sandra Spencer of Re/Max Real Estate Group represented the buyer.
Shore Cliffs Home Sold
Homebuilder Tony Valentine left his mark on this five-bedroom, 6 ½-bath Shore Cliffs home at 174 Shorecliff Road in Corona del Mar.
The home includes a chef's kitchen, inlaid wood floors, a walnut-paneled library, areas for entertaining and other features.
It was listed in September for $6 million and briefly touched $6.5 million in March before being sold on July 3 for $5.5 million.
The home is 7,000 square feet and has a seven-car garage.
Tim Smith of Coldwell Banker Previews International listed and sold the property.
Surf's Up!
The home at 5405 Seashore Drive, directly on one of Newport's best-known surfing beaches, features 3,098 square feet of living space with an additional 962 square feet of deck space, five bedrooms, 4 ½ bathrooms, utility room and a finished basement. It sold on July 2 for $4.7 million, $500,000 under its February asking price.
The modern-style home has floor-to-ceiling windows that provide sand and water views that stretch to the horizon. Bifold glass doors lead to a wooden deck with direct access to the sand.
Chris Brigandi of Arbor Real Estate Professionals Inc. represented the seller. Susan Piazza of First Team Real Estate represented the buyer.
4 Gladstone Lane
The 8,200-square-foot, six-bedroom, 7 ½-bath home at 4 Gladstone Lane in Laguna Niguel sold on June 6 for $4.6 million, matching its March asking price.
The recently built estate is at the end of a gated driveway and on a 31,559-square-foot parcel with ocean, Catalina Island and city-light views.
There's extensive use of stone and walnut flooring throughout the home; it's designed for complete living, with a dance studio that can serve as a seventh bedroom and a home theater featuring a 110-inch screen, state-of-the-art equipment and stadium seating.
Giulietta Fox-Wilson of Prudential California Realty provided the listing. Ron Vasquez of First Team Real Estate represented the buyer.