Lazy Dog Stirs With New Name, NorCal Expansion
RESTAURANTS: HB-BASED CHAIN SALES PEGGED AT $60M
Saturday, July 20, 2013
Share this article: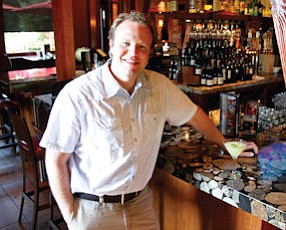 The Cajun-seasoned French fries with a side of chipotle ranch and wok-fired calamari at Lazy Dog Restaurant & Bar are far from cafe fare.
That's why it made sense to change the chain's name from Lazy Dog Café to Lazy Dog Restaurant & Bar, said Chief Executive and founder Chris Simms.
"We have really been focusing on the food and beverage program and taking that to the next level, and we didn't feel like 'the cafe' accurately described the breadth and creativity," he said, referring to the name change last year. "We're really serious about food and bar."
The Huntington Beach-based chain has 12 company-owned restaurants in Southern California and operates in the premium casual dining segment with its twists on classic menu items that include an Asian ahi tuna burger and black and bleu brick-oven pizza.
The fare is served in homey, lodge-style settings, with restaurants averaging 7,800 square feet.
Simms, 38, came up with the Lazy Dog name following a Wyoming vacation when he spotted a dog lounging by a fireplace, choosing it to go along with the restaurant's cozy atmosphere.
The name change is intended to help nab more customers new to the brand, especially as the chain tries to grow in Northern California. It plans to open its first location there in October in Concord.
"A lot of people look at the sign and make a decision about whether to come inside," Simms said. "The more they can understand quickly from the exterior, the better decision they can make about whether to walk in."
The expansion comes as the chain prepares to celebrate its 10-year anniversary next month.
New Locations
The Concord location will be the company's second new restaurant this year after San Diego, which opened last month.
Lazy Dog is eyeing as many as three restaurant openings for next year that could include Northern and Southern California locations.
Concord isn't considered a one-off location in the region for the chain. Simms said the company has identified "several neighborhoods in Northern California" that would be good for a Lazy Dog restaurant.
The new restaurants this year and Lazy Dog's plans for next year are big moves for a company that has slowly built up its portfolio over the past decade.
Last year saw the opening of its 9,000-square-foot flagship location in Brea, which has a 1,000-square-foot test kitchen.
The company employs about 50 people at its headquarters and 1,800 companywide.
Simms declined to disclose annual sales for the chain. The Business Journal estimates it has sales of $60 million.
It's still modest growth relative to the company's larger competitors in the casual dining segment.
Those rivals include Darden Restaurants Inc.'s Yard House USA Inc. of Irvine, which has more than 40 restaurants and plans to open one restaurant each in Massachusetts and Idaho this year.
There's also Huntington Beach-based BJ's Restaurants Inc., which opened its sixth restaurant last week. The company said it plans to add a total of 17 restaurants to its 135-unit chain by the end of the year.
Simms said Lazy Dog is set to its own pace and seems to have hit its stride now.
"As the base of the restaurants have grown to 12, and soon to be 13, we find that it's a little bit easier to open up an extra restaurant," he said.
The job of opening a Lazy Dog restaurant—at a cost of about $4 million each—never gets easy, he added, but "our team has gotten better at it."
That doesn't mean faster growth is on the horizon.
"That's always the tricky part in expanding. If you expand too fast, then you really run the risk of having quality suffer," he said.
Mimi's
The company doesn't plan on franchising, and that's the same approach to Irvine-based Mimi's Cafe, the chain of 145 company-owned restaurants Simms' father, Thomas, and grandfather, Arthur, founded. Simms grew up in the San Fernando Valley but opened the first Lazy Dog in Huntington Beach because of Mimi's presence here.
Mimi's was sold by Ohio-based Bob Evans Farms Inc. to LeDuff America Inc. of Dallas earlier this year for $50 million.
Simms said he believes the chain can still grow to a sizable footprint under its current strategy but didn't specify a number. There is also interest in growing outside of California in the next couple of years.
"There are lots of restaurant groups that are pretty big, so there's a very long runway ahead of us," Simms said. "We're just in the beginning phase, but we always want to make sure we're able to keep our arms around it."