Irvine Company Keeps Housing Pipeline Full
REAL ESTATE: READY TO SEND NEXT PLAN FOR NORTH IRVINE TO CITY
Saturday, July 20, 2013
Share this article: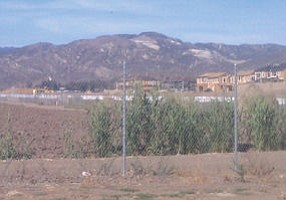 Grading work could begin as early as next month for a new, 300-acre housing development by the Irvine Company along Jeffrey Road in North Irvine.
The project—which is slated to hold about 1,900 homes when completed—could have its first model homes built and open for sales in about a year, according to executives with the Newport Beach-based developer, which owns the land.
The master developer is still putting finishing touches on its plan for the project, which sits just west of the edge of Irvine Co.'s still-under-construction Stonegate development, which will have about another 2,000 homes upon its completion in the next few years.
The 300-acre project would take shape immediately west of Jeffrey Road, running north from Irvine Boulevard to Portola Parkway.
An official name for the development has not been disclosed.
The largely flat site—described by Irvine Co. as "Planning Area 5B"—now is used to grow a variety of crops. It was previously used by garden and plant company Hines Nurseries LLC.
The city of Irvine's planning commission is expected to review the project's plans next month. Grading and infrastructure work could begin a short while later if all goes well at that hearing, according to Irvine Co. executives.
They added that an ultimate timeline for development will remain subject to market demand.
The initial planning for the area was approved by the city more than a decade ago.
"This is part of our long-term planning and stems from a 2002 agreement with the city for new villages in" North Irvine, Irvine Co. spokesperson Mike Lyster said. "We continue to work with the city and neighboring communities on Planning Area 5B and look forward to sharing updates as they come available."
Early-stage plans disclosed several months ago included about 450 apartments, in addition to a mix of higher-density condominiums and low-to-medium density single-family detached homes.
Those plans have already been adjusted; apartments are now no longer expected to be built at the site.
Sources not affiliated with Irvine Co. said they expect its in-housing homebuilding unit, Irvine Pacific LP, would handle at least the initial phase of the 1,900 for-sale homes at the development.
Irvine Co. officials were unable to comment on whether they planned to sell land at the project to other builders.
The development also is expected to include an elementary school and several parks, according to early-stage renderings of the project.
The 10-acre elementary school could be completed in 2016, and the development's total build-out could occur after four or five years, according to discussions earlier this year between Irvine Co. and residents in the immediate area around the site.
Those timelines are not set in stone and could shift depending on market conditions, Irvine Co. executives noted last week.
The development plans add another big project to Irvine Co.'s housing pipeline in Irvine.
The company currently has homes for sale in five other residential projects on the Irvine Ranch, which has been the most active masterplanned development in California for several years running, in terms of home sales.
There were more than 1,400 home sales on Irvine Ranch housing projects last year, an 88% increase from 2011 levels, according to data from Irvine-based John Burns Real Estate Consulting LLC.
Sales figures for the first half of 2013 have not been disclosed by Irvine Co., which earlier this year began home sales at another new North Irvine development, Cypress Village.
Irvine Co. also is expected to announce the opening of another development, Orchard Hills, later this year, assuming market conditions remain favorable. A time frame for that high-end project has not been disclosed.
The Business Journal reported last month that Aliso Viejo-based homebuilder The New Home Co. had entered into a letter of intent to buy a pair of sites in Irvine that would total 108 lots and sell for a combined $118.2 million. Industry sources said the land is in Orchard Hills, which is expected to hold its share of multimillion-dollar homes.
"For now, our focus remains on Cypress Village, Portola Springs, Stonegate, Woodbury and Laguna Altura," Lyster said.