AUDIO EQUIPMENT MAKER GETS 50,000 SQUARE FEET
Buy of Costa Mesa Headquarters Sounds Logical to QSC
Saturday, July 20, 2013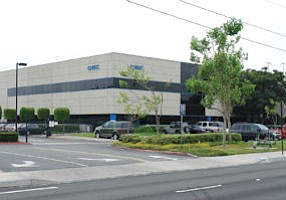 The site is next to a 260-acre mixed-use development site known as Pacific Pointe at Douglas Park.
Sares-Regis also owns a majority of that land and said its portion of Pacific Pointe could support an additional 3.2 million square feet of office, industrial and retail space.
Terms of the Mercedes lease weren't disclosed. CBRE's John Schumacher and Brian DeRevere represented Sares-Regis in the long-term deal.
Busier Bayview
S.K. Hart Properties LLC has added two good-sized tenants to its Bayview Corporate Center office complex on Jamboree Road.
The Salt Lake City-based owner, which paid a reported $53 million for the former Downey Financial headquarters complex in 2009, signed online video game company Sleepy Giant Entertainment Inc. and law firm Lee, Hong, Degerman, Kang & Waimey for a combined 37,500 square feet of space.
Sleepy Giant is leasing about 22,000 square feet and will occupy a full floor at Bayview. The privately held company, formed in 2007, is relocating from its current Fashion Island spot at 4 San Joaquin Plaza. It describes itself as a leading games-as-a-service provider for game developers and publishers and is backed by San Francisco-based private equity firm TPG Capital.
Lee, Hong, Degerman, Kang & Waimey will relocate from its current location, at 1920 Main St. in the Irvine Concourse, into about 15,500 square feet at Bayview.

The firm will be on the building's top floor, which was previously occupied by a law firm and is already built out to accommodate many of the tenant's requirements, according to brokers at CBRE Group who represent the building's landlord.
A multimillion-dollar renovation project wrapped up at the two-building Bayview center last year. The 322,000-square-foot property is now about 70% full, according to brokerage data.
CBRE's Jake Stickel, Carol Trapani and Jeff Morgan represented S.K. Hart in the two transactions.
Prev Next