Benck Replaces McCluney as CEO of Emulex
Tuesday, July 16, 2013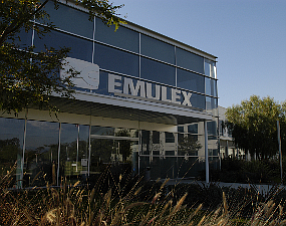 Jeffrey Benck's promotion to chief executive at networking equipment maker Emulex Corp. was among a cascade of leadership changes the Costa Mesa-based company announced after the close of trading Monday.
Benck, who previously held the titles of president and chief operating officer, replaces James McCluney.
McCluney, who took over the top post in 2006, was named executive chairman of the board.
Paul Folino stepped down from his role as executive chairman and will serve as a director.
All of the changes are effective today.
Benck joined Emulex in May 2008 as executive vice president and chief operating officer and took over the president's role in August 2010.
In his tenure, he's overseen the company's engineering, marketing, business development, operations and sales divisions. And he's been instrumental in driving its Ethernet strategy and customer and market expansion.
Emulex designs and makes networking equipment that connects storage, servers and data centers.
Benck takes the helm at Emulex during a pivotal juncture in its 37-year history.
It has long been a leader in the fibre-channel market, along with Aliso Viejo-based rival QLogic Corp., but that segment is generally considered to be in long-term decline.
Both companies are eyeing the 10-gigabit Ethernet connection market, a competitive segment that has drawn big industry players as storage needs and speedy data transfer become increasingly important with the proliferation of video and streaming content.
Emulex has long been seen as a takeover target by industry watchers.
The Business Journal in June reported that the company hired Goldman Sachs to seek a potential sale.
That came on the heels of Emulex staving off a proxy battle with its biggest shareholder in April through the appointment of two directors.
Irvine-based chipmaker Broadcom Corp. tried to buy Emulex in 2009 for $764 million, but its hostile bid was rejected.
Emulex on Monday also provided preliminary sales and adjusted profits figures for the June quarter that are in line with Wall Street estimates.
Revenue is projected to hit between $119 million and $120 million, while adjusted profits are projected to be between $9.9 million to $11.8 million.
Emulex shares were down about 1% in afternoon trading Tuesday to a market value of $745.04 million.