Taco Bell Bright Spot for Yum Brands Parent
Thursday, July 11, 2013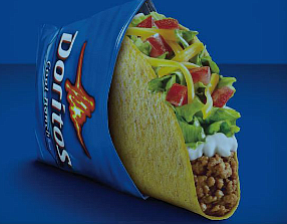 Irvine-based Taco Bell Corp. saw same-store sales grow 2% for the quarter ended June 15.
The growth compares with a 13% jump in the year-ago period, an increase that reflected the launch of the company's first Doritos Locos Tacos, which has since been followed by a Cool Ranch flavor.
Taco Bell sold 100 million Doritos Locos Tacos this quarter.
The fast-food chain's comparable stores growth, along with a 3% rise at sister chain KFC, helped offset a 2% decline in sales at Pizza Hut for their Louisville, Ky.-based parent Yum Brands Inc.'s U.S. quarterly performance.
"In the United States, our overall same-store sales were positive, and we continue to be particularly pleased with Taco Bell," Yum Chief Executive David Novak said in a conference call with analysts on Wednesday after market close. "Taco Bell continues to have momentum and the franchise community is clearly excited about the future growth strategies of the brand."
Yum Brands' overall performance continues to be affected by an incident uncovered in December involving a poultry farmer in China who was using antibiotics and hormones on its chickens. KFC sales in China continued to lag in the June quarter, helping push Yum Brands net income for the period down 15% to $281 million.
The company's revenue, including income from franchise and license fees, fell 8% to $2.9 billion.
Yum Brands shares were trading down about 1% in afternoon trading Thursday to a market value of $32.21 billion.