Laguna Hills Mall Owner's Vision for Renovation Released
Thursday, July 11, 2013
Share this article: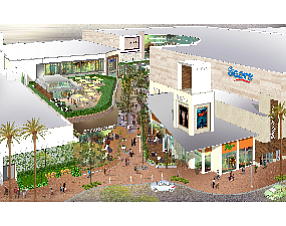 Renderings released for the renovation of the Laguna Hills Mall provide a look at what new owner Merlone Geier Partners hopes to do with the property to boost traffic.
Plans call for a luxury theater, high-end grocer and additional restaurants, according to the company's website.
Specifics on what tenants will be added have yet to be disclosed.
Merlone Geier acquired the mall from Indianapolis-based Simon Property Group LP on undisclosed terms in May.
The mall totals about 847,000 feet and is anchored by Macy's, jcpenney, Nordstrom Rack and Sears with occupancy hovering around 73%, according to a Simon Property financial report.