REAL ESTATE: KEEPS ANOTHER 13; SET FOR BUY OF CITY PLAZA IN ORANGE
Greenlaw Sells 10 Acres in IBC for Residential Plan
Saturday, July 6, 2013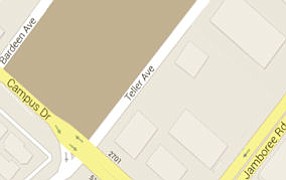 Another affiliate of the company bought a nearly 9-acre, two-building property late last year at 2500 Main St., where 457 apartments have been proposed.
Terms of that sale—which included the former headquarters of Quantum Fuel Systems Technologies Worldwide Inc., which now operates out of Lake Forest—were not disclosed.
Garden Communities is owned by the Wilf family, whose affiliated companies reportedly own more than 90,000 apartment units across the country, along with numerous commercial properties. The family's best-known member is Zygi Wilf, owner of the NFL's Minnesota Vikings.
Tower Deal
Meanwhile, Greenlaw Partners and another investment partner, Chicago-based Walton Street Capital LLC, are close to buying the 19-story City Plaza office tower from Los Angeles-based Hudson Pacific Properties Inc.
A deal has been in the works for the 334,000-square-foot building—which fronts the Garden Grove (22) Freeway next to the Outlets at Orange shopping center—for several months.
The Business Journal reported in March that Greenlaw was the building's most likely buyer.
A $75 million estimated sale price of the building was reported at that time based on other recent Orange County office sales of largely full buildings.
That estimated price looks to have been off the mark. Hudson Pacific said last week that it plans to sell the building for about $56 million before certain credits, prorations and closing costs are factored in.
The sale is expected to close on or before mid-July, Hudson Pacific said last week.
Hudson Pacific bought the City Plaza tower in 2008, when it was about 45% full.
The property, at 1 City Blvd. W., is now about 94% occupied and has Anaheim-based mortgage and consumer lender CashCall Inc. as its largest tenant.
The building is the only Orange County asset owned by Hudson Pacific, whose executive team previously headed up Arden Realty Inc.
Prev Next