REAL ESTATE: KEEPS ANOTHER 13; SET FOR BUY OF CITY PLAZA IN ORANGE
Greenlaw Sells 10 Acres in IBC for Residential Plan
Saturday, July 6, 2013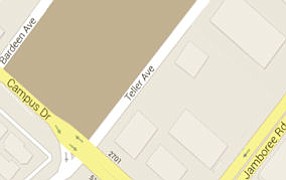 Newport Beach-based Greenlaw Partners LLC and its financial partners have closed on the sale of a 10-acre office site in the Irvine Business Complex that's being eyed for a large residential development, and they are close to buying City Plaza tower in Orange.
The two transactions are believed to be valued at more at more than $110 million combined.
Five Buildings
An affiliate of San Diego-based apartment owner Garden Communities of California recently bought a five-building collection of office, retail and light manufacturing buildings off of Campus Drive in Irvine, about a block from Jamboree Road.
The low-rise buildings—which run between Bardeen and Teller avenues—total about 138,000 square feet and are believed to have traded hands for more than $55 million, according to real estate sources.
The 10-acre site was sold by a venture of Greenlaw Partners, a privately held real estate firm that has been one of Orange County's most active investors the past few years, along with an affiliate of Boston-based Guggenheim Real Estate LLC.
The estimated price indicates the offices traded hands for nearly $400 a square foot, although the underlying land at the site is believed to be the primary focus of Garden Communities, which would eventually have to tear down the buildings to make way for its residential plans. The estimated price comes to $5.5 million per acre.
The parcel Garden Communities bought is part of a larger, 23-acre site that is being considered for a residential redevelopment known as Irvine Technology Center.
The development could have as many as 1,800 homes or apartments—as well as 17,000 square feet of retail development—along the northwest corner of Campus Drive and Jamboree Road.
The proposed development—one of the largest residential projects on the books for the Irvine Business Complex—has been in the planning process for several years.
Greenlaw and Guggenheim still own the remaining 13 acres at the site, which holds another seven low-rise offices between Teller Avenue and Jamboree Road.
The two companies paid a reported $60 million for the entire 23-acre site in 2006, according to brokerage records.
A time frame for development at either portion of the 23-acre site has not been disclosed. Irvine's planning department doesn't have a date listed for a hearing on the project.
The recently acquired site is one of two Irvine sites near John Wayne Airport that Garden Communities and its affiliates are said to have bought in the past year in anticipation of residential redevelopment.
Prev Next