OC Automakers See Mixed June Results
Tuesday, July 2, 2013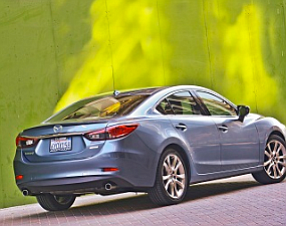 The U.S. auto industry got off to a strong start for the summer even as local automakers' saw mixed results in June.
Sales nationally rose 9.2% in June to 1.4 million vehicles, according to Woodcliff Lake, N.J.-based Autodata Corp.'s online industry researcher Motor Intelligence.
The results set the industry on track to sell nearly 16 million vehicles for the year, the highest the annualized rate has been since November 2007.
The country's largest automakers notched big gains, including a 13% surge at Ford Motor Co. and a 14% increase at Toyota Motor Sales USA Inc.
Locally, Irvine-based Mazda North American Operations saw the largest gain in June sales from the year-ago period.
Mazda's June sales rose 13% to 22,496 vehicles. Vehicles with the company's SKYACTIV fuel-saving technology accounted for about 73% of the month's sales. SKYACTIV comes equipped in the Mazda6 sedan, CX-5 crossover utility vehicle and some Mazda3 cars.
Costa Mesa-based Hyundai Motor America Inc. saw June sales up 2% from a year earlier to 65,007 vehicles.
Other automakers based here saw slight dips in their sales for the month.
Irvine-based Kia Motors America Inc. reported June sales down 1.5% to 50,536 vehicles.
Mitsubishi Motors North America Inc.'s June sales fell about 2.1% to 5,297 vehicles. Sales, excluding the effects of discontinued models, would have been up about 40% for the month.