JWA Passenger Traffic Up for December, Full Year
Thursday, January 31, 2013
Share this article: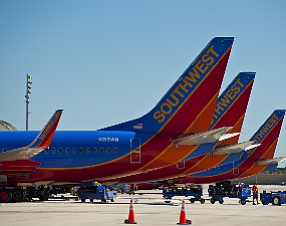 John Wayne Airport saw December passenger traffic rise 5.5% from a year earlier to 735,626 passengers.
Dallas-based Southwest Airlines Co. served the most passengers out of John Wayne during the month, with 292,185. United Airlines, part of United Continental Holdings Inc. of Chicago, was second (102,621), followed by Fort Worth, Texas-based AMR Corp.'s American Airlines Inc. (93,061).
Passenger traffic for the full year rose 2.9% to more than 8.85 million passengers.
"The addition of service to three new destinations in Mexico by AirTran and Interjet helped contribute to this growth," said John Wayne Airport Director Alan Murphy in a statement. "The overall increase in passengers, however, reflects both the new international service and improvements in the general domestic travel market."
AirTran Airways, part of Southwest Airlines, launched daily flights from Orange County to Mexico City and Cabo San Lucas last summer.
The airline announced late last year plans to double its service to Cabo beginning June 2 until at least Aug. 9.
AirTran's addition of Mexico service was followed by the debut of Interjet, which launched flights from Orange County to Mexico City and Guadalajara in October.
JWA saw air cargo in December grow by 17% to 1,630 tons, marking the fourth straight month of double-digit percentage increases.
Air cargo was up nearly 15% for the year to 17,870 tons.