Corinthian Swings to Quarterly Loss
Thursday, January 31, 2013
Share this article: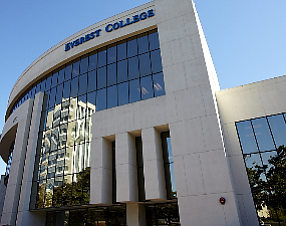 Santa Ana-based Corinthian Colleges Inc. swung to a loss for its December quarter, with $68,000 in red ink compared with a profit of $1.8 million a year earlier.
Shares of the for-profit schools operator were trading down about 3% early Thursday at a market value of about $219.6 million.
Corinthian had $409.7 million in revenue for the quarter, up about 4% from a year ago.
The company operates 113 campuses throughout the U.S. and in Canada under the Everest, Heald and WyoTech brands.
Corinthian enrolled 23,703 new students in the quarter, down about 4% from the year-earlier period. It finished the quarter with 88,688 students, a 2% year-over-year decrease.
It said it expects profits of between $3.5 million and $5.2 million in the current quarter on revenue ranging from $400 million to $410 million. It projected a 4% decline in new student enrollment for the period.
The company earlier this month received an order from the Wisconsin attorney general's office to provide information related to its Everest Milwaukee campus, including data on student outcomes, enrollment processes and financial aid. The Milwaukee campus was counted as a discontinued operation as of December 31, according to a filing with the U.S. Securities and Exchange Commission.
Corinthian also recently received an investigative subpoena from the California attorney general to provide "a broad range of documents and other items related to cohort default rates, placement and completion data … and financial-aid processes." The subpoena is a part of a statewide investigation of the for-profit education industry.