Midday Stock Roundup
Wednesday, January 30, 2013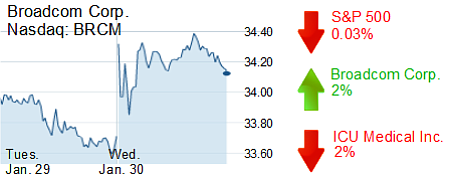 The S&P 500 was off 0.03% to 1,507 in midday trading Wednesday.
The Dow Jones Industrial Average rose 0.02% to 13,957, while the Nasdaq fell 0.01% to 3,153.
The yield on a 10-year treasury bond was up 1.56% to 2.02%.
The price of gold rose 1.11% to $1,681 per ounce.
Shares of Irvine-based chipmaker Broadcom Corp. were up about 2% to $34, a day after the company reported better-than-expected fourth-quarter results. Broadcom had a recent market value of $19.3 billion.
Santa Ana-based First American Financial Corp. was up about 2% to $23 for a market value of $2.5 billion.
Irvine-based Masimo Corp. was down about 2% to $21 for a market value of $1.2 billion.
Shares of San Clemente-based ICU Medical Inc. were off about 2% to $61 for a market value of $897 million. ICU Medical, which makes needleless intravenous connectors and other medical devices, said Monday that it plans to voluntarily discontinue distribution of its CLC2000 Positive Displacement Needlefree Connector beginning April 30 in the U.S. The company attributed the decision to safety concerns by the FDA and more customers using newer, alternative devices.
Santa Ana-based Powerwave Technologies Inc., which filed for Chapter 11 bankruptcy protection on Monday, was down about 11% to a market value of $1.7 million on the over-the-counter market after the company was delisted from the Nasdaq.