5 Honored at Business Journal's 7th Annual CFO Awards
Wednesday, January 30, 2013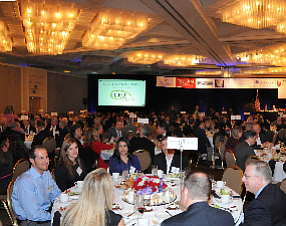 Representatives of the local financial industry and various other segments of the Orange County business community joined to welcome the five winners of the 7th Annual Orange County Business Journal's CFO of the Year Awards last night.
The event drew a crowd of about 800 for dinner and ceremonies on Tuesday at the Hyatt Regency Irvine.
Michael Frobenius took honors in the Non-Profit category for his work at Think Together in Santa Ana, which draws its name from its stated mission of "Teaching, Helping, Inspiring and Nurturing Kids" and provides after-school programs for children regardless of "race, creed or socioeconomic status."
Frobenius hit on a key aspect of the CFO's position when he highlighted his working relationship with Randy Barth, chief executive of Think Together. Frobenius also cited a basic principle of business when he thanked Barth for leadership that lives up to the aphorism of "'nothing ventured, nothing gained.'"
The other winners, by category, were:
Public Company: John Hohener of Microsemi Corp. in Aliso Viejo.
Private Company: Scott Savoie of Santa Ana-based Universal Services of America.
Rising Star: David Justus of The Retail Equation Inc. in Irvine.
Lifetime Achievement: William Humes of Santa Ana-based Ingram Micro Inc.
Profiles of the winners will appear in the Business Journal's issue of Feb. 11.