California Republic Swings to Profit for Q4, Full Year
Thursday, January 24, 2013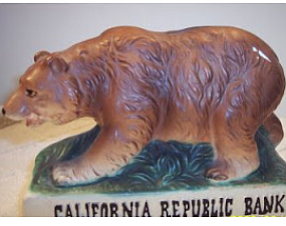 Irvine-based California Republic Bank reported $5.2 million in profit in the fourth quarter, a swing from a loss of $1.2 million in the year-earlier period.
Total interest income for the quarter was $6.8 million, up 81% year over year.
The bank's full-year profit was $8.1 million, compared with a net loss of $1.8 million for 2011.
Total interest income for the year was $25.2 million, double the year-earlier amount.
The bank's parent, California Republic Bancorp, made "significant investment in the auto finance business" in 2011, according to a statement.
The bank in November completed a process of pooling and selling nearly $183 million in notes backed by its automobile loans. It said the move was the primary driver behind the return to profits.
California Republic had $591.8 million in total assets at the end of last year, up 46% from a year ago.
Total loans at the end of December were $396.9 million, up about 39% from a year ago. More than three-thirds of the loans were in commercial banking and commercial real estate.
Deposits grew 55% over the year to $530.5 million.
California Republic recently relocated its headquarters from Newport Beach and took space across two floors in Irvine Towers. It also moved its Newport Beach branch.