NAMM to Kick Off Convention Center's Grand Plaza
Wednesday, January 23, 2013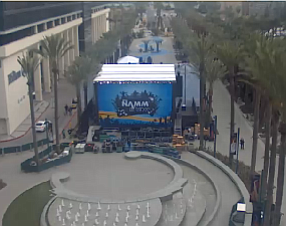 The Anaheim Convention Center is getting ready to highlight its newly added 100,000-square-foot Grand Plaza with Thursday's start of one of the major shows on its calendar.
The outdoor venue offers groups uses ranging from dining to concerts.
The opening of the Grand Plaza also marks the kickoff of Carlsbad-based National Association of Music Merchant's annual musical instruments show, which will run through Jan. 27.
The annual show has an estimated economic impact of $91.5 million, and is expected to draw more than 100,000 visitors in recent years.