Midday Stock Roundup
Tuesday, January 22, 2013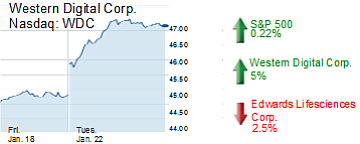 The S&P 500 rose 0.22% to 1,489 in midday trading Tuesday.
The Dow Jones Industrial Average was up 0.30% to 13,691, while the Nasdaq was down 0.05% to 3,133.
The yield on a 10-year treasury bond was off 0.27% to 1.84%.
The price of gold rose 0.37% to $1,693 per ounce.
Shares of Irvine-based disk drive maker Western Digital Corp. were up about 5% to $47 in afternoon trading, after the company announced the addition of new networking backup technology resulting from its recent purchase of Carlsbad-based Arkeia Software Inc. Western Digital had a recent market value of $11.5 billion.
Irvine-based heart valve maker Edwards Lifesciences Corp. fell back about 2.5% to $92, after closing up about 3% on Friday. Edwards Lifesciences had a recent market value of $10.7 billion.
Shares of CoreLogic Inc. rose about 2% to $28, a day after the Irvine-based company announced its purchase of underwriting software maker CDS Business Mapping LLC in a deal that closed last month. CoreLogic, which provides data to the real estate and mortgage industries, had a recent market value of $2.8 billion.
Newport Beach patent licensing company Acacia Research Corp. was down about 2.5% to $26 for a market value of $1.3 billion.