Jobless Rate Drops to 3-Year Low at 6.8%
Friday, January 18, 2013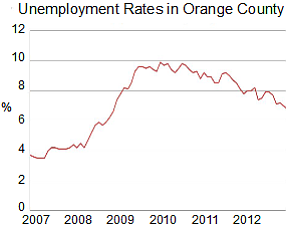 The unemployment rate in Orange County fell to 6.8% in December, its lowest level in three years.
That's down from 7% the prior month and 7.8% a year earlier.
The drop in the rate came despite a loss of 3,300 jobs, according to data from the state Employment Development Department.
OC now has 1,405,900 jobs, according to the agency.
December's decline in the number of jobs was driven by losses in the professional and business services sector, and partially offset by gains spread across other industries.
Professional and business services cut 4,800 jobs, after adding 100 in November. Almost all of the cuts occurred in administrative and support services, which include temporary help firms. The sector now has a total of 253,300 employees, which reflects a decline of 1,200 jobs year over year.
The number of government jobs fell by 1,200. The sector has 144,700 employees now, down nearly 5% from a year earlier.
Local government accounted for all the cuts and more as it slashed 1,300 jobs. The same sector had seen a gain of 1,400 jobs in November.
Leisure and hospitality jobs declined by 400 in December, following a month-earlier drop of 1,000. The sector's total work force of 181,400 reflects a 4% growth from a year ago.
Educational and health services added 2,000 jobs last month, with all of the growth coming from healthcare and social assistance. The sector has grown by 3% throughout last year, reaching 165,600 jobs.
The number of trade, transportation and utilities jobs increased by 1,000, continuing the momentum from November, when it added 4,600 workers. The sector is now the largest among Orange County industries with a total of 259,200 employees, making up 18% of the total work force here.
Local financial services companies increased headcount by 700 to 111,700. The sector has added 7,500 workers throughout last year, a growth of more than 7%. It marked the largest year-over-year growth both in numbers and percentage.
The uemployment rate for California was 9.7% in December, slightly up from 9.6% a month prior. Nationwide, the rate was 7.6%, up from 7.4%.