Midday Stock Roundup
Thursday, January 17, 2013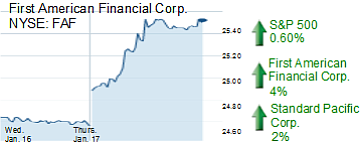 The S&P 500 rose 0.60% to 1,481 in midday trading Thursday.
The Dow Jones Industrial Average was up 0.65% to 13,588, while the Nasdaq was up 0.61% to 3,137.
The yield on a 10-year treasury bond rose 3.3% to 1.88%.
The price of gold was up 0.27% to $1,688 per ounce.
Shares of Irvine-based Standard Pacific Corp. rose about 2% to $8 for a market value of $2.8 billion. Housing starts in December grew by about 12%, helping the industry see its best year since 2008.

Santa Ana-based First American Financial Corp. was up about 4% to $25 for a market value of $2.7 billion. The company announced a quarterly cash dividend of 12 cents per common share, which will be paid out to shareholders March 15.
Shares of Irvine medical device maker Masimo Corp. were up about 3% to $21 for a market value of $1.2 billion.