Midday Stock Roundup
Tuesday, January 15, 2013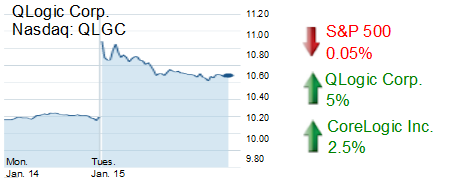 The S&P 500 fell 0.05% to 1,470 in midday trading Tuesday.
The Dow Jones Industrial Average was off 0.04% to 13,502, while the Nasdaq was down 0.22% to 3,111.
The yield on a 10-year treasury bond fell 1.62% to 1.83%.
The price of gold was up 0.86% to $1,684 per ounce.
Shares of Santa Ana-based CoreLogic Inc. rose about 2.5% to $27. CoreLogic, which specializes in data for the real estate and mortgage industries, had a recent market value of $2.6 billion.
Aliso Viejo-based networking-equipment maker QLogic Corp. rose about 5% to $11, after the company said it expects revenue and earnings per share for the quarter ended in December to be higher than previously stated guidance. QLogic had a recent market value of $987 million.
Shares of Irvine printed circuit board maker Multi-Fineline Electronix Inc., known as M-Flex, fell 22% to $17 for a market value of $396 million. M-Flex said Monday that its margins for the quarter ended Dec. 31 are expected to be lower than earlier guidance. The company also said it now expects a seasonal decline in revenue and break-even to slightly negative net income in the current quarter.
Santa Ana-based circuit board maker TTM Technologies Inc. fell 13% to $8 after Stifel Nicolaus lowered its rating on the company's stock from buy to hold. TTM had a recent market value of $667 million.