HILTON ANAHEIM MOVES INTO TOP SPOT WITH CATALINA ROOM
Hotels Get Lift With Meeting Space Steady for Biggest Here
Saturday, January 12, 2013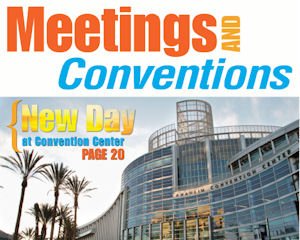 That's the case at No. 14 Hyatt Regen-cy Huntington Beach Resort & Spa, which saw business begin to improve about two years ago, according to General Manager Paul Devitt.
"There's no new supply coming on so that's really giving us an opportunity, as the market begins to accelerate to capitalize on it," Devitt said.
Meetings bookings at the Hyatt Regency this year are shaping up to be better than last year, with business from Fortune 500 companies and many of the larger corporations headquartered in OC. That activity is helping bring the hotel back to highs seen during the peak years of 2007 and 2008, Devitt said.
Trends
"The trend over the last couple years [was that we saw] some meetings—not eliminated—but scaled back," Devitt said. "What we're starting to see now is that the length of the meetings and number of attendees joining these meetings is beginning to grow. Instead of just being all business per se, we're starting to see some of the activities that were maybe scaled down … such as philanthropic endeavors … coming back, team building is coming back. And we're also seeing more leisure activities built into meetings."
That includes more trips to Disneyland and local activities such as golfing.
Fewer Concessions
Local hotels are less likely to be offering concessions to woo new business as bookings for meetings continues to increase, causing some companies to lock in multiyear deals, packaged over two or three years, Devitt said.
"Those concessions are starting to go away, and our hotel is not having to offer as many concessions to secure business," he said.
---
Download the 2013 OC's LARGEST HOTEL MEETING SPACE list (pdf)
Prev Next