Hotels Get Lift With Meeting Space Steady for Biggest Here
HILTON ANAHEIM MOVES INTO TOP SPOT WITH CATALINA ROOM
Saturday, January 12, 2013
Share this article: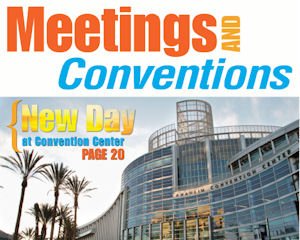 A standstill in construction of new meeting room space should help hotels continue their recovery into this year.

Orange County's 51 largest hotels, ranked by indoor meeting space, combined for 1.26 million square feet for the 12 months through December, about even with the year-ago period.
The break-even total came even as the number of meeting rooms among the largest OC hotels fell to 880 last year from 892, due to renovations at several properties.
Hilton Anaheim took the No. 1 spot on the list, a position previously held by No. 2 Disneyland Hotel.
Hilton Anaheim added about 40,000 square feet with the addition of its Catalina space, which is in the lower lobby of the hotel and consists of seven separate meeting rooms.
2012 marked the first full year of operations for the Catalina addition, which was completed in the second half of 2011.
The rest of the list's top five remained unchanged from a year ago, with Anaheim Marriott Hotel at No. 3, Hyatt Regency Orange County at No. 4, and Hyatt Regency Huntington Beach Resort & Spa at No. 5.
The largest addition to a hotel's meeting room supply took place at No. 13 Waterfront Beach Resort by Hilton in Huntington Beach, which added 2,417 square feet of space last year.
"The Sands"
Waterfront Beach Resort's newly added space, called The Sands, offers a covered tiki bar and firepit. It's part of a recently renovated indoor-outdoor area called The Driftwood Pavilion, Courtyard and Sands.
The only other hotels to add to their supply of meeting space last year were Laguna Cliffs Marriott Resort & Spa—which tied for the No. 22 spot with four other hotels—and No. 43 DoubleTree Suites by Hilton Anaheim Resort-Convention Center in Anaheim. The two hotels added a combined 2,631 square feet of meeting space to their supplies last year.
Those slight gains were largely offset by the loss of a combined 3,374 square feet of meeting space seen among three OC hotels on the list.
These included No. 18 DoubleTree by Hilton—Anaheim/Orange County, At-rium Hotel in Irvine—which tied with three other properties at No. 31—and No. 35 DoubleTree by Hilton Santa Ana-Orange County Airport.
Reduction
Atrium Hotel reduced its meeting space the most—by about 2,000 square feet—to a total of 13,000 square feet to make room for full-service spa Complexions Day Spa, which opened in the summer.
Some in the industry welcome the current lack of new construction or meeting space expansions as the industry continues to build on a recovery that has taken place over the past few years.
That's the case at No. 14 Hyatt Regen-cy Huntington Beach Resort & Spa, which saw business begin to improve about two years ago, according to General Manager Paul Devitt.
"There's no new supply coming on so that's really giving us an opportunity, as the market begins to accelerate to capitalize on it," Devitt said.
Meetings bookings at the Hyatt Regency this year are shaping up to be better than last year, with business from Fortune 500 companies and many of the larger corporations headquartered in OC. That activity is helping bring the hotel back to highs seen during the peak years of 2007 and 2008, Devitt said.
Trends
"The trend over the last couple years [was that we saw] some meetings—not eliminated—but scaled back," Devitt said. "What we're starting to see now is that the length of the meetings and number of attendees joining these meetings is beginning to grow. Instead of just being all business per se, we're starting to see some of the activities that were maybe scaled down … such as philanthropic endeavors … coming back, team building is coming back. And we're also seeing more leisure activities built into meetings."
That includes more trips to Disneyland and local activities such as golfing.
Fewer Concessions
Local hotels are less likely to be offering concessions to woo new business as bookings for meetings continues to increase, causing some companies to lock in multiyear deals, packaged over two or three years, Devitt said.
"Those concessions are starting to go away, and our hotel is not having to offer as many concessions to secure business," he said.
---
Download the 2013 OC's LARGEST HOTEL MEETING SPACE list (pdf)