HILTON ANAHEIM MOVES INTO TOP SPOT WITH CATALINA ROOM
Hotels Get Lift With Meeting Space Steady for Biggest Here
Saturday, January 12, 2013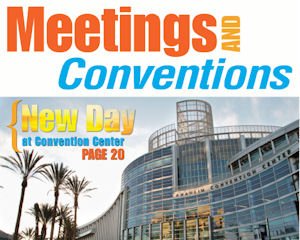 A standstill in construction of new meeting room space should help hotels continue their recovery into this year.

Orange County's 51 largest hotels, ranked by indoor meeting space, combined for 1.26 million square feet for the 12 months through December, about even with the year-ago period.
The break-even total came even as the number of meeting rooms among the largest OC hotels fell to 880 last year from 892, due to renovations at several properties.
Hilton Anaheim took the No. 1 spot on the list, a position previously held by No. 2 Disneyland Hotel.
Hilton Anaheim added about 40,000 square feet with the addition of its Catalina space, which is in the lower lobby of the hotel and consists of seven separate meeting rooms.
2012 marked the first full year of operations for the Catalina addition, which was completed in the second half of 2011.
The rest of the list's top five remained unchanged from a year ago, with Anaheim Marriott Hotel at No. 3, Hyatt Regency Orange County at No. 4, and Hyatt Regency Huntington Beach Resort & Spa at No. 5.
The largest addition to a hotel's meeting room supply took place at No. 13 Waterfront Beach Resort by Hilton in Huntington Beach, which added 2,417 square feet of space last year.
"The Sands"
Waterfront Beach Resort's newly added space, called The Sands, offers a covered tiki bar and firepit. It's part of a recently renovated indoor-outdoor area called The Driftwood Pavilion, Courtyard and Sands.
The only other hotels to add to their supply of meeting space last year were Laguna Cliffs Marriott Resort & Spa—which tied for the No. 22 spot with four other hotels—and No. 43 DoubleTree Suites by Hilton Anaheim Resort-Convention Center in Anaheim. The two hotels added a combined 2,631 square feet of meeting space to their supplies last year.
Those slight gains were largely offset by the loss of a combined 3,374 square feet of meeting space seen among three OC hotels on the list.
These included No. 18 DoubleTree by Hilton—Anaheim/Orange County, At-rium Hotel in Irvine—which tied with three other properties at No. 31—and No. 35 DoubleTree by Hilton Santa Ana-Orange County Airport.
Reduction
Atrium Hotel reduced its meeting space the most—by about 2,000 square feet—to a total of 13,000 square feet to make room for full-service spa Complexions Day Spa, which opened in the summer.
Some in the industry welcome the current lack of new construction or meeting space expansions as the industry continues to build on a recovery that has taken place over the past few years.
Prev Next