IRVINE COMPANY LEADS APARTMENT TREND—BY DESIGN
Real Estate: Kevin Baldridge
Saturday, January 5, 2013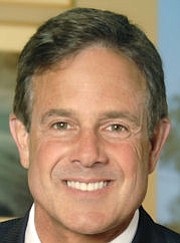 Kevin Baldridge oversaw last year's largest real estate development push in Orange County, if not in all California.
Baldridge, president of Irvine Co. Apartment Communities, oversees an existing apartment portfolio of more than 44,000 rental units and close to 125 communities across the state.
His division's aggressive pace of land acquisition and construction over the past year could result in Newport Beach-based Irvine Co.—already the largest owner of apartments in California—adding another 10,000 or more rental units to that total in the next few years.
That's about the same number of housing units that is tentatively expected to be built at Irvine's Great Park Neighborhoods over the lifetime of that massive project.
Irvine Co. stood out last year even by the red-hot standards of the area's apartment market, where national investors continue to snap up existing properties and land at a rapid pace.
Forward
That growth was forward-looking, according to Baldridge.
"We are continuous students of California and Orange County," Baldridge said. "We try to anticipate inflections in housing demand through our study of regional economic trends, job growth, household formations and demographic changes."
"We felt in early 2010 that Orange County was poised for sustained, albeit slower, growth over the ensuing three to five years, and that housing correspondingly would be a beneficiary," he said. "We anticipated rental demand due to the 'decoupling' of room mates or young adults moving out of their parents' homes. We did not foresee the added demand that resulted from the general disfavor with for-sale housing. 2012 represented the nexus of our rental housing deliveries being absorbed by pent-up demand for well located, convenient and flexible housing alternatives."
Irvine Co.'s apartment division is banking on employment gains—here and in other markets—to help fill its new and planned projects.
"New job growth as well as expansion of part-time jobs to full-time will drive demand for rental and for-sale housing alike," Baldridge said. "While I see consumer psychology turning in favor of for-sale housing, the positive economic drivers and momentum in Orange County today are broad enough to increase demand for all housing types in the near to mid-future."
Orange County, where Irvine Co. already owns about 100 complexes and is by far the area's largest landlord, remains the focus of much of the company's apartment construction.
Yet the real estate owner and developer last year made headline-making pushes into a few other key markets last year.
Prev Next