Real Estate: Kevin Baldridge
IRVINE COMPANY LEADS APARTMENT TREND—BY DESIGN
Saturday, January 5, 2013
Share this article: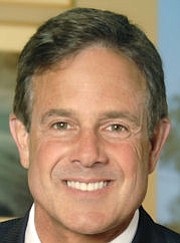 Kevin Baldridge oversaw last year's largest real estate development push in Orange County, if not in all California.
Baldridge, president of Irvine Co. Apartment Communities, oversees an existing apartment portfolio of more than 44,000 rental units and close to 125 communities across the state.
His division's aggressive pace of land acquisition and construction over the past year could result in Newport Beach-based Irvine Co.—already the largest owner of apartments in California—adding another 10,000 or more rental units to that total in the next few years.
That's about the same number of housing units that is tentatively expected to be built at Irvine's Great Park Neighborhoods over the lifetime of that massive project.
Irvine Co. stood out last year even by the red-hot standards of the area's apartment market, where national investors continue to snap up existing properties and land at a rapid pace.
Forward
That growth was forward-looking, according to Baldridge.
"We are continuous students of California and Orange County," Baldridge said. "We try to anticipate inflections in housing demand through our study of regional economic trends, job growth, household formations and demographic changes."
"We felt in early 2010 that Orange County was poised for sustained, albeit slower, growth over the ensuing three to five years, and that housing correspondingly would be a beneficiary," he said. "We anticipated rental demand due to the 'decoupling' of room mates or young adults moving out of their parents' homes. We did not foresee the added demand that resulted from the general disfavor with for-sale housing. 2012 represented the nexus of our rental housing deliveries being absorbed by pent-up demand for well located, convenient and flexible housing alternatives."
Irvine Co.'s apartment division is banking on employment gains—here and in other markets—to help fill its new and planned projects.
"New job growth as well as expansion of part-time jobs to full-time will drive demand for rental and for-sale housing alike," Baldridge said. "While I see consumer psychology turning in favor of for-sale housing, the positive economic drivers and momentum in Orange County today are broad enough to increase demand for all housing types in the near to mid-future."
Orange County, where Irvine Co. already owns about 100 complexes and is by far the area's largest landlord, remains the focus of much of the company's apartment construction.
Yet the real estate owner and developer last year made headline-making pushes into a few other key markets last year.
The company has complexes under way in San Jose that should hold about 3,300 units.
The company already owns about 5,500 units in the Silicon Valley, which is among the tightest apartment markets in the country. Apartment rents in the area have approached 10% in each of the past two years.
Baldridge said last year that the company wants to grow its Silicon Valley apartment portfolio to more than 10,000 units in five years.
Irvine Co. recently was tapped to head up the for-rent portion of a development in the Playa Vista district on the Westside of Los Angeles. That's expected to result in about 1,500 apartments and as many as 800 homes.
It'll be the only apartment project in Los Angeles that Irvine Co. runs, outside of a high-end complex in Santa Monica.
For Orange County—where rents have increased about 4.5% over the past year, according to brokerage data—the company has pushed ahead on development both on land the company already owns, as well as locations outside its core markets.
Last year saw the opening of Cypress Village Apartment Homes, a new apartment complex in northeast Irvine. The four-community project—located off Trabuco Road, next to the Santa Ana (I-5) Freeway—will include 1,677 apartments when it's completed.
Cypress Village is the largest new apartment community to open in Orange County since the Great Recession, according to Baldridge.
Another Irvine Co. project opening up this year near the Irvine Spectrum shopping center is expected to exceed Cypress Village in size.
Los Olivos, a project going up near the site of the former Wild Rivers Waterpark, is set to open this March, and will have as many as 1,750 apartments when completed.
Airport Area
Closer to John Wayne Airport, construction is under way for a 981-unit complex in the Park Place mixed-use campus. Irvine Co. paid a reported $101.4 million for the 14-acre site, where it plans a high-end complex.
The company has also been actively eyeing OC sites outside Irvine for potential projects. It is considering building a high-end rental project near Newport Center, at the current site of its San Joaquin Plaza low-rise office project. A timeline for construction at that proposed 524-unit development has not been disclosed.
Irvine Co. recently closed on the purchase of a site along Orangewood Avenue in the Platinum Triangle area near Angel Stadium.
The company plans to build a 395-unit apartment project at the Anaheim site, which sits next to its Gateway apartment complex, an 884-unit complex that the company bought about two years ago.
Irvine Co. last year closed on a land deal at the Tustin Legacy master development that should result in another 533 apartments. Construction there could start later this year, with work finishing up by 2015. n\