Wet Seal Lowers Guidance on Weak December Sales
Thursday, January 3, 2013
Share this article: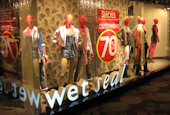 Foothill Ranch-based teen and contemporary retailer Wet Seal Inc. lowered its guidance for the January quarter after reporting disappointing same-store sales for December.
The company, which operates 475 Wet Seal stores for teens and 80 Arden B stores for young women, saw same-store sales in December fall 9.7%.
Analysts on average expected same-store sales to fall 5%.
Wet Seal shares were down less than 1% in midday trading Thursday to a market value of about $250 million.
"December sales were below our expectations, driven mainly by lower than expected transactions throughout the month," the company said in a statement. "Through careful inventory management and promotional strategies, we brought inventories to appropriate levels as we exited the holiday season."
The company had been narrowing its monthly same-store sales losses since September after reinstituting a fast-fashion merchandising strategy following the firing of former Chief Executive Susan McGalla in July.
The December same-stores decline was led by an 11.5% fall in same-store sales for the Arden B chain, which saw $10.1 million in net sales for the month.
The company's Wet Seal division, which had net sales of $62.9 million for the month, saw same-store sales fall 9.4% in December.
Wet Seal, which said in November it expected a loss of between $2.7 million and $5.3 million for the current quarter ending in January, revised its outlook to the lower end of that range. The company warned the loss could be higher when factoring in one-time charges.