McKnight to Exec Chairman, Disney Vet New CEO for Quiksilver
Thursday, January 3, 2013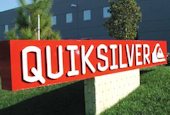 Bob McKnight will step down as president and chief executive of Huntington Beach-based Quiksilver Inc., with those posts at the surf and skate apparel brand going to Andy Mooney, a former chairman of consumer products for Walt Disney Co. and marketing executive at Nike Inc.
McKnight will take the post of executive chairman on Jan. 11.
Quiksilver's shares were up about 9% after the announcement to a market value of about $789 million in morning trading Thursday.
McKnight founded the company in 1976 and has served as chief executive since 1991.
Quiksilver has about $2 billion in annual sales. Its products are sold at a wide range of retailers and 600 of its own stores.
The company posted a loss of $10.8 million for its fiscal year ended Oct. 31, the latest in a streak of annual losses that goes back to 2007. The losses have narrowed significantly in recent years, reflecting improvements in the wake of a near-disastrous acquisition of French ski maker Rossignol for $560 million in 2005.
The buy was intended to expand Quiksilver beyond clothes inspired by surfing and skateboarding and into winter sports gear and apparel.
Rossignol chalked up consistent losses, and Quiksilver sold it off for $50 million in 2008. The deal left Quiksilver with about $1 billion in debt from the deal and borrowing to keep Rossignol afloat before the sale.
Mooney's experience prior to Disney was a 20-year run at Beaverton, Oregon-based athletic shoe and apparel company Nike Inc., where he held a number of positions including chief financial officer of the UK business and chief marketing officer.
Mooney is credited with founding Nike's equipment division and also oversaw its footwear and apparel groups.
McKnight said in the company's Thursday announcement of the news that Quiksilver launched a search for his successor about a year ago, hiring an executive search firm.
"This is an exciting time for Quiksilver and me personally as we bring in Andy and his ability to leverage our brands and people with his experience," McKnight said in a statement. "I am very proud of Quiksilver's many accomplishments and its three global iconic brands, industry leading athletes and gifted team of managers and employees."