GLENNWOOD HOUSE TAKES SHAPE IN LAGUNA BEACH
Special Place for Special Needs
Sunday, February 24, 2013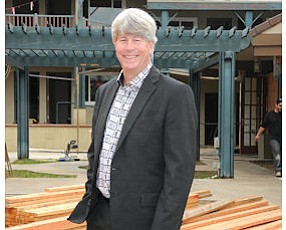 Sometimes Randy Larson ends his work day with a trip to the roof—"Randy's roof," he calls it.
He'll spend perhaps the quietest moment of his day watching the sun sink into the Pacific Ocean from his perch on what will soon be the Glennwood House of Laguna Beach.
The neighbors have gotten used to seeing him around—even on the rooftop of the work in progress.
It won't be long until the work is done.
Glennwood House—about five years in the making and even more time brewing as an idea—is due to open in June.
It will be a 30,000-square-foot residential community for high-functioning young adults who have developmental disabilities.
"It's been a long grind," said Larson, owner of the Irvine-based financial planning and insurance services company Larson Financial Advisors Inc., and the man behind Glennwood House.
Some things have gone according to plan, but many have not.
"Have I had a lot of sleepless nights? Absolutely," Larson said. "But there's light at the end of the tunnel, and I'm pretty sure it's not a train."
The target opening date is June 1.
Estimated cost: about $8 million, including $1.3 million in renovation and construction costs.
Funds have been raised privately through grant writing, board member donations, and a slew of ongoing fundraising events such as wine tastings, art auctions and a Harley Hearts for Glennwood Ride by motorcycle enthusiasts.
Singer-songwriter Elton John contributed $25,000 to the project in January. Larson's good friend had a connection to the singer-songwriter.

"People have been gracious with their time and money," Larson said.
The board is still working to raise about $300,000 to finish renovations and additions to an assisted-living facility the organization bought for $6.5 million in 2010.
"I've done lots of renovations in my career, so I knew stuff would come up," said Richard Henrikson, a board member for Glennwood, and president and principal mechanical engineer at Irvine-based Henrikson Owen & Associates Inc., part of Los Angeles-based Owen Group Inc. "Sure enough, it did."
The building's plumbing was shot and had to be repiped.
Dream With Legs
Henrikson has been lending his expertise to the renovation since he and his wife, Maggi, were inspired by a Glennwood House event about a year ago.
"I loved the vision," Henrikson said. "I loved the dream."
But it was more than a dream.
"There was a dream with some manifestation going on—a dream with legs."
Prev Next