Kaiser Aluminum Dips on Q4 Miss
Wednesday, February 20, 2013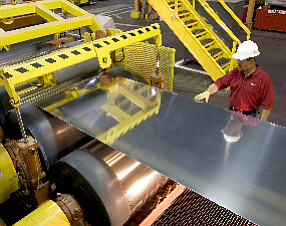 Foothill Ranch-based Kaiser Aluminum Corp. missed expectations on revenue and profits in the fourth quarter, when it saw dampened demand from the automotive and general engineering sectors.
The company's shares were down about 5% in early trading today, to a market value of about $1.18 billion.
Kaiser Aluminum makes specialty aluminum products, including sheets, plates and bars. It primarily serves the aerospace, automotive and industrial markets.
It saw $314 million in sales in the fourth quarter, down about 1% from the same period a year earlier. Analysts had on average expected revenue of about $317.7 million.
The sales miss came on lower demand from the automotive industry that was "partially offset by strong aerospace plate shipments."
Profit increased by 50% in the quarter to $9.1 million but missed expectations by a wide margin. Analysts had expected earnings of about $15.7 million.
Kaiser Aluminum had $1.36 billion in sales for the full year, up nearly 5% from a year ago. Net income for the year was $86 million, more than triple the $25 million in the prior year. Lower manufacturing costs helped toward the increase, according to Chief Executive Jack Hockema.
Hockema said the company anticipates demand for aerospace applications, as well as pre-tax profit margins, to be flat in the first half of 2013 compared with the same period a year ago.
"Weak fourth-quarter demand … has continued in the first quarter as uncertain global economic conditions and weak North American industrial manufacturing demand continue to cloud our near-term visibility for general engineering and industrial applications," Hockema said.
The longer-term outlook is rosier, and the company expects "significant capital spending in 2013," Hockema said, citing plans to spend between $50 million and $80 million this year, including a new casting unit at the company's Trentwood facility.