BlizzCon Set for November in Anaheim
Wednesday, February 20, 2013
Share this article: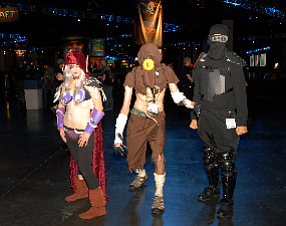 Irvine-based Blizzard Entertainment Inc. has set a date for the return of its BlizzCon fan fest, which will be held at the Anaheim Convention Center on Nov. 9.
The company cancelled the event last year this year for the first time since its inaugural run in 2005. Instead it held the 2012 Battle.net World Championship, a global eSports event in Shanghai featuring tournaments for competitive gamers who play the company's StarCraft II game.
BlizzCon has drawn close to 30,000 attendees in years past. Tickets have run as high as $150 a pop, and they typically sell out within minutes.
The event is not a money maker, according to the company, but is seen as an important marketing showcase for new products, often with top-flight entertainment on the schedule.
The 2011 gathering featured the unveiling of the fourth World of Warcraft expansion, Mists of Pandaria, and a closing concert with the Foo Fighters as headliner.
"BlizzCon gives us a chance to connect with our players and share our latest projects in a very personal way," said Chief Executive and cofounder Mike Morhaime.
Further details about BlizzCon 2013, including ticket availability and pricing, will be announced on the official BlizzCon website www.blizzcon.com.
Blizzard, one of the largest software makers in Orange County, posted sales of $1.6 billion in 2012, up 29% from 2011. Operating income topped $717 million, up 45%.
The company released two games last year, including Pandaria and Diablo III, which broke PC sales records.