STEC Responds to Dissident Shareholders' Push to Replace Board
Wednesday, February 13, 2013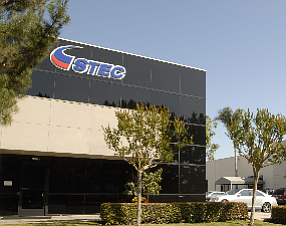 Santa Ana-based disk drive maker STEC Inc. has offered to nominate two directors from a slate of seven proposed by dissident shareholders that want to replace the company's entire board.
San Francisco-based Balch Hill Capital LLC is STEC's biggest shareholder, with a 9% stake. It has been calling for a sale of the company, which it claims has "lost the trust of its key constituents."

Boston-based Potomac Capital Advisors, which has a stake of about 1% in STEC, joined Balch Hill in a recent securities filing that contended "shareholder value is at risk without a reconstituted board."
The dissidents attributed their moves to a slide in STEC's performance in the past two years, which have seen its shares fall by about 75% to a market value of about $250 million. The company reported a loss of about $20 million on $42 million in revenue for the September quarter.
Revenue has declined from $95 million in final quarter of 2010 to about $38 million in the current quarter, according to Balch Hill.
The dissidents have criticized STEC's decision to respond to increased competition by going into new product lines and boosting spending on research and development with little to show.
STEC said it has moved to trim expenses, including a layoff of 65 workers, about 7% of its total, and an agreement by Chief Executive Mark Moshayedi and his brother, Manouchehr, to cut their annual salaries to $1 a year, for a savings of about $3.6 million.
STEC said it will review four of the dissidents' seven nominees, and choose two for a slate of directors to be offered at the company's annual shareholders' meeting, which has not yet been scheduled.
"We are disappointed that despite the good faith efforts of our board of directors and management to engage in constructive dialogue with Balch Hill and Potomac Capital, they have chosen to discount our 2013 strategic plan to create shareholder value, and instead focus on what we believe is an unnecessary, disruptive and wasteful proxy contest to take control of STEC, all without paying a premium to shareholders," Chief Executive Mark Moshayedi said in a statement.
The possibility of a proxy fight follows last year's resignation of Manouchehr Moshayedi, who faced insider trading accusations levied by the Securities and Exchange Commission.