Record Q4 Revenue for Ingram Micro
Wednesday, February 13, 2013
Share this article: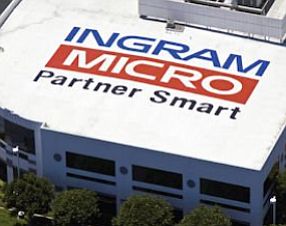 Santa Ana-based Ingram Micro Inc. on Wednesday reported fourth-quarter revenue along with profits that beat Wall Street expectations.
The company posted record revenue of $11.38 billion, up 14% from a year earlier.
Analysts on average had forecast sales of $10.84 billion.
Net income topped $101.4 million, which was down 3.4% but still beat Wall Street estimates of $87 million.
Ingram Micro is the biggest distributor of computers, software and other technology products in the world.
The company in the December quarter posted sales gains in three of its four operating regions.

Sales in North America were up 6% to $4.21 billion, led by double digit growth in the small and medium-sized business segment and higher margin specialty divisions.
The Latin America region topped $602.7 million, up 5% and a record for the quarter.
Asia Pacific saw sales increase by 11% to $2.18 billion, led by double-digit growth in India and China.
Europe reported sales of $3.08 billion, down 4% from a year ago.
The strong quarter was buoyed by last year's acquisitions of BrightPoint Inc. and Aptec Holdings Ltd., which contributed about $1 billion and $75 million, respectively, to quarterly sales.
"We are clearly executing better against our key strategic initiatives and we are beginning to see early returns from our organic investments into areas such as enterprise computing and IM Logistics, as well as from our acquisitions to drive growth in higher value markets," said Chief Executive Alain Monié.
Revenue in 2012 topped $37.8 billion, up 4.1% from 2011.
Net income hit $306 million, up 25.2%.
The company provided some financial guidance for the current year.
The $840 million cash buy of Indianapolis-based wholesale distributor BrightPoint is projected to save the company at least $55 million annually in trimming redundancies, while contributing $27 million in adjusted profits this year and $52.55 million in 2014, excluding one-time charges and integration costs.
Ingram Micro projects revenue growth in the low teens this year, and a seasonal decline in sales and gross margins in the current quarter.
Its shares were down less than 1% at the close of trading Wednesday to a market value of $2.77 billion.