Next for Taco Bell: Cool Ranch
Wednesday, February 13, 2013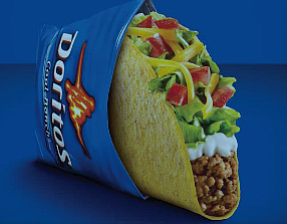 Irvine-based Taco Bell Corp. plans to put a Cool Ranch-flavored Doritos Locos Tacos on its menu starting March 7.
The taco, with a Cool Ranch Doritos-flavored shell, follows the launch of the original-flavored Doritos Locos Tacos about a year ago.
The original Doritos Locos Tacos, along with a new tag line and a raft of other new menu items last year, helped reverse a 2011 same-store sales slump for Taco Bell.
Taco Bell sold about 300 million of the original Doritos Locos Tacos last year. That helped the chain notch an 8% increase in same-store sales for 2012.
Taco Bell launched the original Doritos Locos Taco with a promotion that gave one free to customers for an entire day.
The company said Cool Ranch Doritos Locos Taco will get with the "largest marketing campaign in history" for a new product.
Details on the campaign are expected in the next few weeks.
The Cool Ranch taco will start at $1.39. about the same as the original. A supreme version of the taco is $1.69. It originally had a release date set for late last year, but the company had to expand its production capacity for making the shells.