Asics New Title Sponsor of LA Marathon
Tuesday, February 12, 2013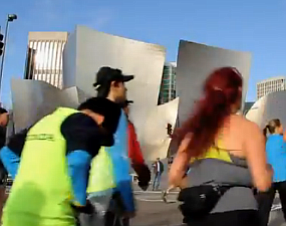 Irvine-based athletic shoe, apparel and equipment maker Asics America Corp. will be title sponsor of the LA Marathon, a spot previously held by American Honda Motor Co. Inc.
The event, scheduled for March 17, has been renamed the Asics LA Marathon. The race typically attracts tens of thousands of runners who run a course that starts at Dodger Stadium and ends near the Santa Monica Pier, drawing hundreds of thousands of spectators and broad coverage from local media.
The cost of the sponsorship is expected to be a multimillion-dollar investment, an Asics America spokesperson said.
It will be the first time for Asics as the top sponsor of a U.S. race. The company is title sponsor of the Stockholm Marathon, and also is involved to lesser degrees with races in New York, Paris and Tokyo.
Asics, part of Japan-based Asics Corp., first became involved in the Los Angeles race last year, when it was the official apparel and shoe sponsor.
"Our experience in Los Angeles last year showed us first-hand that this race is a crown jewel, so we are thrilled to be the title sponsor and have this long-term association," said Asics America Chief Executive Kevin Wulff in a statement.
Asics has developed merchandise that will be co-branded with the LA Marathon. The Asics brand will be part of all marketing for the race.
The deal comes as Asics America continues to work toward a goal set a few years ago to grow sales to $1 billion by 2015. The company last reported sales of $680 million in 2010.
Honda, headquartered in Torrance, signed a three-year title sponsor agreement with LA Marathon LLC in 2010, becoming the race's first title sponsor. Honda is no longer a sponsor for the race.