Kia Eyes Luxury Crossover Market With New Concept Vehicle
Friday, February 8, 2013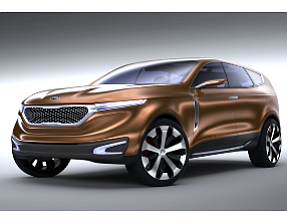 Irvine-based Kia Motors America Inc. showed off a new concept crossover utility vehicle at the Chicago Auto Show on Thursday that could help it compete in the premium segment of the market.
Automakers make prototype vehicles they call concepts as a way to test the market's reaction, with a few eventually mass produced.
Kia said its Cross GT, which was designed at the company's Irvine design center, shows its "intentions to potentially offer a larger premium CUV than the current Sorento."
The Sorento is a crossover utility vehicle, with a starting price of $23,150. Its competition includes the Mazda CX-9 and Toyota RAV4.
Kia's Cross GT concept vehicle is larger than the Sorento and is characterized as a luxury offering.
The Cross GT follows the automaker's unveiling of the 2014 Cadenza sedan at the North American International Auto Show in Detroit a few weeks ago.
The Cadenza will compete in the premium segment of the market with cars such as the Hyundai Azera, Lexus ES models and Lincoln MKZ.
Sales of the Cadenza are expected to begin in the second quarter of this year. Pricing has not yet been announced.
Kia sales have been on a tear in recent years, boosted by a raft of redesigned vehicles.
The automaker's 2012 sales pushed past the 500,000-vehicle mark for the first time in the company's history, up 14.9% to 557,599 vehicles.