Cars Land Helps Drive Attendance Boost for Disney Parks
Wednesday, February 6, 2013
Share this article: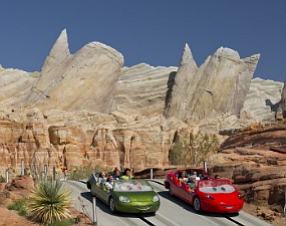 Higher attendance and spending at the Disneyland Resort in Anaheim helped Burbank-based Walt Disney Co. to a fourth-quarter revenue gain—a bright spot amid a dip in earnings attributed primarily to a slowdown for its movie studio.
The Disneyland Resort includes the Disneyland and California Adventure theme parks along with three hotels and the Downtown Disney shopping and entertainment district.
The June opening of Cars Land at California Adventure received another nod during the company's Tuesday earnings call, with Chief Executive Bob Iger telling analysts that the addition has led to "dramatic increases in attendance, occupancy and strong price increases."

Revenue for the company's parks and resorts division for the quarter ended Dec. 29 grew 7% to $3.4 billion.
The growth was the result of a 4% increase in attendance and a boost in spending by guests at the company's U.S. parks overall.
Disney does not break out revenue or attendance figures for its various parks.
Per capita spending rose 6% during the quarter on higher ticket prices, food and beverage and merchandise spending.
Average per room spending at Disney's U.S. hotels grew 4%, while occupancy fell 4 percentage points to 81%.
The company saw overall revenue up 5% to $11.3 billion for the quarter
The company's net income fell 6% during the quarter to $1.4 billion.
Disney began testing its MyMagic+ program for some Walt Disney World Resort guests in Florida. The program lets visitors make reservations for attractions and shows before visiting the parks and can also be used as a hotel room key, park ticket and payment option.
The program is expected to be rolled out in Florida later this year.
Former Disneyland Resort President George Kalogridis told the Business Journal in December that a version of this new program could make its way to Anaheim, but it likely would not be this year.