Golden State Buys New Zealand Foodmaker
Tuesday, February 5, 2013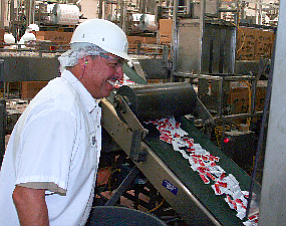 Irvine-based food processor and distributor Golden State Foods Corp. has acquired a majority stake in Groenz Group Ltd., a manufacturer of sauces, dressings and other products sold to restaurants in New Zealand, Australia and various Pacific Ocean island nations.
Terms of the deal between the two privately held companies were not disclosed.
Golden State Foods processes meats and liquid products, including sauces, dressings and syrups. It also provides distribution services to the fast-food industry. It is the third-largest privately held company in Orange County, with an estimated $5.4 billion in worldwide revenue. It has about 3,800 employees total, with 50 or so at its Irvine headquarters.
"This opportunity with Groenz is a continuation of our strategy to support our customers in their local markets," said Mark Wetterau, chairman and chief executive of Golden State Foods. "Groenz brings a tremendous reputation for service and product innovation, which will greatly enhance our product offerings and service to our customers, and we look forward to working with them."
Wellington, New Zealand-based Groenz Group does not disclose financial data. It has been in business for 35 years and employs about 55 workers at its headquarters.
"The Groen family is very happy to have forged this partnership with Golden State Foods," said Fred Groen, managing director of Groenz Group. "From very small beginnings in the 1970s, the company has grown to a point where we needed a substantial trade partner to further expand, and we found that partner with [GSF]."
Groenz Group is the second overseas acquisition for Golden State Foods in recent months. It acquired KanPak China, a manufacturing company that serves the restaurant industry in Asia, in November.
Golden State Foods bought a 51% stake in the company from Wichita, Kan.-based KanPak LLC. Terms of the deal were undisclosed.
KanPak makes dairy-based products, including ice cream, smoothies and frozen desserts. The company has about $60 million in annual revenue and about 70 employees. It does not break out numbers for its business in Asia.