CommerceWest Profits Triple in Q4
Tuesday, February 5, 2013
Share this article: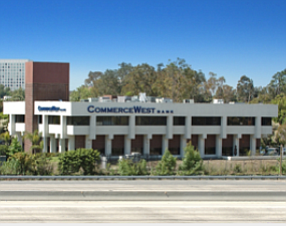 Irvine-based CommerceWest Bank reported fourth-quarter earnings of $1.2 million, triple its year-earlier profit.
Much of the quarter's gains came from a jump in noninterest income, including various fees, which totaled $1.4 million, compared with $432,000 a year earlier.
Net interest income for the quarter was $2.8 million, up 13% year over year.
The bank's full-year profit also tripled last year, reaching $4.2 million, compared with $1.4 million in 2011.
Net interest income grew by 4% last year to $10.2 million.
Noninterest income for the year was $4.7 million, up from $2 million a year earlier.
"We are well positioned for 2013," said Chief Executive Ivo Tjan, "and we are optimistic about contributing to the growth in the local economy."
CommerceWest saw a 17% growth in total assets last year to $346.7 million.
It had $183.3 million worth of loans at the end of December, up 25% from a year earlier.
Deposits at the end of the year totaled $288.7 million, a 16% year-over-year growth.
The bank set aside $645,000 for possible loan losses last year, up from $190,000 the previous year.