Balboa Bay Club & Resort Gets 2 Names
Tuesday, February 5, 2013
Share this article: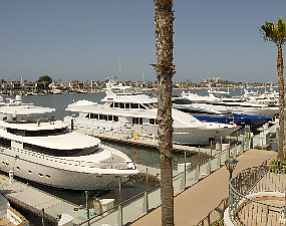 The Balboa Bay Club & Resort in Newport Beach has a couple of new names to reflect the two main parts of its operations: a private, members-only club alongside a full-service waterfront resort that's open to the public.
The private side will be known as Balboa Bay Club, with the rest of the operations known as Balboa Bay Resort.
The Balboa Bay Club offers its members exclusive access to a private beach, waterfront pools, restaurants, a spa and fitness center.
The resort is next to the club along 15 acres of bay front land. It has 160 guest rooms and suites and dining available, along with 17,000 square feet of meeting space.
"Our hope is that the name change will help to define an appropriate distinction between the club and the resort, and will communicate to our local community and guests that the resort and its dining outlets are available to enjoy without a club membership," said Dieter Hissin, general manager of Balboa Bay Resort. "We look forward to 2013 being an exciting year of change, inspiring public events and resort upgrades, and it all begins with our new name."
The new names come about a year after the sale of the Balboa Bay Club & Resort and its sister Newport Beach Country Club by Beverly Ray Parkhurst's International Bay Club Inc.
Irvine-based private equity company Eagle Four Partners and Pacific Hospitality Group LLC, an Irvine-based owner and manager of hotels, bought the operations for an undisclosed price.
Richard H. Pickup and his family members—most longtime Newport Beach residents—head up Eagle Four Partners. Pickup was a major shareholder and director at Epicor Software Corp. in Irvine prior to its sale to London-based Apax Partners in 2011 for $976 million.
Pacific Hospitality, led by Chief Executive Tim Busch, owns and operates a number of California properties including the Estancia La Jolla Hotel & Spa and The Meritage Resort and Spa in Napa Valley.