Wet Seal President Resigns; Retailer Trims Workforce
Monday, February 4, 2013
Share this article: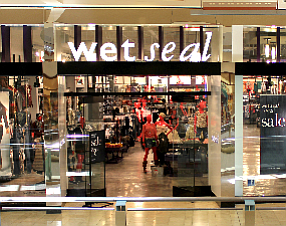 Foothill Ranch-based Wet Seal Inc. announced the depature of President and Chief Operating Officer Ken Seipel in addition to the elimination of 35 positions at the retailer.
Wet Seal operates a chain of 475 Wet Seal stores for teens and 80 Arden B stores geared to young women.
The job cuts are the first major announcement from the retailer since its hire last month of John Goodman, a veteran of Sears Holdings Corp. and Charlotte Russe Inc., as chief executive.
Wet Seal said Seipel resigned "to pursue other professional opportunities."
Seipel was hired by former Chief Executive Susan McGalla. He is credited with helping lead the company, along with Chief Financial Officer Steve Benrubi, as it searched for a new chief executive after McGalla's July firing.
The chief operating officer position has been eliminated, with Goodman taking on oversight of store operations, e-commerce and construction. Benrubi will oversee information technology and real estate business for Wet Seal.
Seipel's resignation comes as the company announced the elimination of 35 positions, most of them at the corporate office, and some of which are not currently filled.
Wet Seal said the moves are expected to save it $3.8 million in pre-tax savings for the current fiscal year.
The company said it expects to see about $2.5 million in savings at the store level through "staffing efficiency measures" and another $2.1 million in savings from "several other cost savings plans."
"With these actions addressed, we now have a leaner and more nimble and entrepreneurial organization," Goodman said in a statement. "Our team is now better structured to take quick and decisive actions to improve merchandising and increase efficiencies throughout all functional areas."
Wet Seal also said it terminated two Arden B store leases in the January quarter, and said it is implementing new training programs.

Meantime, the Wet Seal board approved a $25 million share repurchase program.
"We believe this amount and our execution plans for this program strike an appropriate balance between maintaining a more efficient capital structure for our shareholders and ensuring our financial strength while we stabilize our operating cash flows," Goodman said in a statement.
Wet Seal shares were about flat in after-hours trading to a market value of about $248 million.