OC Automakers See Mixed January Sales
Monday, February 4, 2013
Share this article: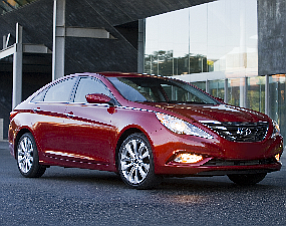 Automakers here posted mixed results for January amid an overall jump in U.S. vehicle sales to start off the year.
Total U.S. vehicle sales nationwide rose 14.2% to 1.04 million vehicles, according to Woodcliff Lake, N.J.-based Autodata Corp.'s online industry researcher Motor Intelligence.
Hyundai Motor America Inc. set a new record for its January sales with 43,713 vehicles, a 2.4% increase from a year earlier. The automaker is expected to move into its new Fountain Valley headquarters at the end of the year and until then is temporarily operating out of Costa Mesa.
Irvine-based Kia Motors America Inc., which shares a parent with Hyundai in Hyundai Kia AutomotiveGroup in South Korea, also saw record January sales, which grew 2.2% to 36,302 vehicles.
Sales for the rest of Orange County's automakers didn't fare as well.
Irvine-based Mazda North American Operations saw January sales slump 11.2% from a year earlier to 21,319 vehicles.
Mitsubishi Motors North America Inc. of Cypress saw sales down 1.1% from a year earlier to 4,659 vehicles.
Brea-based American Suzuki Motor Corp. sold 1,488 vehicles for the month, which was down 1% from a year ago. Suzuki is winding down its U.S. automobile sales after filing for Chapter 11 bankruptcy in November. The company received its final shipment of 2,500 vehicles from Japan in December.