Johnny Rockets Parent Seeks Buyer
Monday, February 4, 2013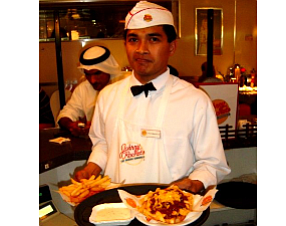 The owner of Aliso Viejo-based Johnny Rockets Restaurant Group Inc. is exploring a possible sale of the American diner-themed chain.
Virginia investment fund RedZone Capital GP LLC, led by Washington Redskins owner Dan Snyder, hired San Francisco advisory firm North Point Advisors to look into a possible sale, according to a Johnny Rockets spokesperson.
There is no timeline on the process, the spokeswoman added.
Johnny Rockets counts more than 300 restaurants in the U.S. and internationally, most of them franchised.
The company, which has estimated sales of $300 million, has been expanding its international locations at a rapid clip with growth last year in Colombia, Brazil and Pakistan among other places. The openings followed the promotion of Steve Devine to president of the company's newly established international division.
RedZone bought Johnny Rockets in 2007 for an undisclosed amount.
The news comes on the heels of last month's announcement of Bob Evans Farms Inc.'s deal to sell Irvine-based Mimi's Café to restaurant operator LeDuff America Inc. in Dallas for $50 million.