Fisker Karma Re-Launch Pitched in Alternative Sale Proposal
Tuesday, December 31, 2013
Share this article: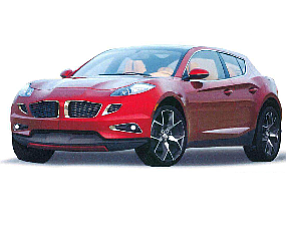 The creditors committee for bankrupt luxury hybrid automaker Fisker Automotive Inc. laid out a plan that would see the re-launch of the Anaheim-based company's Karma sedan in addition to a second vehicle.
The presentation was filed in court Monday along with the creditors' committee's request for another auction in which auto parts maker Wanxiang America Corp. would bid on the company's assets.
The creditors committee said a sale of the company's assets to Wanxiang would "allow for a fair and open sale process that best serves the interest of the Debtors' creditors."
Fisker was essentially sold to an affiliate of Hybrid Tech Holdings LLC, pending the approval of the bankruptcy court. Hybrid Tech Holdings is affiliated with Hong Kong billionaire Richard Li, in an October Department of Energy auction of its loan.
The creditors' committee motion represents the latest wrinkle in a series of twists and turns for Fisker since it started in 2007. The company saw lackluster sales of the brand's sole vehicle, the Karma, along with a suspension of its $530 million DOE loan. It laid off most of its workforce before its Chapter 11 bankruptcy filing in November.
Images of a second Fisker vehicle in court documents show something similar to the Atlantic sedan the automaker had been working on prior to filing for bankruptcy.
Wanxiang said in its presentation that production of the Karma would resume in Finland but would eventually be moved to the manufacturing facility of VL Automotive LLC, which it described as its business partner.
VL Automotive is the startup led by former General Motors Corp. executive Bob Lutz. It makes the Destino, a sedan that pairs a modified Karma body with the gas-powered engine of a Chevrolet Corvette.
VL and Wanxiang had reportedly offered to buy Fisker for $20 million in a prepared bankruptcy prior to Fisker actually filing for bankruptcy protection.
Wanxiang bought Fisker battery supplier A123 Systems Inc. out of bankruptcy last year.