OC Car Sales Up 15.2% in November
Monday, December 23, 2013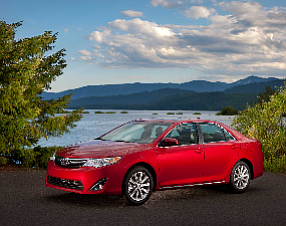 Orange County auto dealers sold 12,204 new vehicles in November, a 15.2% jump from a year earlier.
The figures, provided by Newport Beach-based Orange County Automobile Dealers Association, are based on 7,606 new car and 4,598 light truck registrations reported in the county.
OC's auto dealers collectively have sold 150,146 vehicles during the first 11 months of 2013, up 11.4% from the same period last year.
Japan-based brands led the way in terms of volume in November, with 5,955 vehicles sold, up 17.8% from a year earlier.
Toyota Motor Corp. led all automakers locally, selling 2,076 vehicles for a 7.6% uptick.
Mazda Motor Corp., which has its North American operations in Irvine, had a 37.8% increase in number of vehicles sold in November, for a total of 350.
Cypress-based Mitsubishi Motors North American Inc. had 72 sales locally, up 33.3% from a same period year earlier.
Domestic brands had the biggest percentage increase in sales in November — 24.7% — accounting for 2,408 vehicles. The GMC and Buick brands led the domestic pack, posting an upswing of 60.6% and 88.9% respectively.
The locally based U.S. operations of two South Korean brands showed mixed results in November.
Fountain Valley-based Hyundai Motor America Inc. sold 770 vehicles, an 11.8% increase year-over-year.
Kia Motors America Inc. in Irvine sold 429 vehicles through OC dealers, a 2.1% drop from a year ago.