OC Adds Jobs, Unemployment Inches Down
Friday, December 20, 2013
Share this article: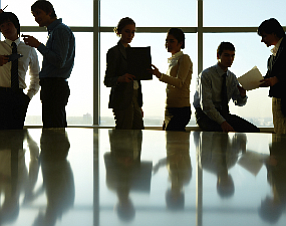 Orange County added 8,700 jobs in November, buoyed in large part by seasonal hiring in retail.
Last month's job gains pushed OC's unemployment level down to 5.6% from 5.8% in October and 6.9% a year ago.
The county now has 1,456,700 jobs total, up by about 30,600, or 2%, over the past year, according to data from the state Employment Development Department.
Businesses in the trade, transportation and utilities sector made 7,400 hires in November. About 90% of the increase was in retail trade, in a "normal seasonal gain," according to the agency.
The sector has grown by about 2% over the past year, for a total of 256,800 jobs, which account for nearly 18% of OC's overall work force.
The number of government jobs increased by 2,300. Local government added 2,500, while jobs at the state level declined by 200. OC now has 146,800 government jobs, lagging the year-earlier total by about 3%.
The manufacturing sector added 1,100 jobs last month, continuing its month-over-month job gains. Manufacturing companies have grown by about 3% over the year and now has 162,400 jobs.
Financial services firms in OC collectively cut 1,400 jobs last month. More than 60% of the cuts were in finance and insurance. The sector overall has about 113,000 jobs now, up nearly 2% over the year.
The number of leisure and hospitality jobs in OC declined by 1,300, for a total of 188,000 jobs. The sector has grown about 3% year-over-year. About 77% of November's drop came from amusement, gambling and recreation businesses. Accommodation and food services companies had a smaller dip.
Orange County's construction sector has grown the most over the past year, at a rate of 11%, despite a decrease in November. The sector cut 1,000 jobs last month, for a total of 82,300.
The unemployment rate for California was 8.3% in November, flat from October, and down from 9.6% a year earlier.
The nationwide rate was 7% in November, down from 7.3% in October and 7.4% a year ago.