PRIME AUTO LENDING, 'SIMPLE' SET OF SERVICES BEHIND BANK'S GROWTH
California Republic's Drive Time
Saturday, December 14, 2013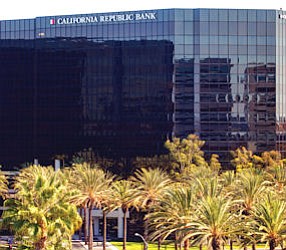 California Republic Bancorp took a brief turn in the public spotlight recently, drawing a nod from Wall Street when it sold about $247 million worth of notes backed by its car loans.
The November transaction was the Irvine-based bank's first public offering registered with the Securities and Exchange Commission. It followed two private deals in the past year or so and got strong marks from ratings agencies, reflecting prime lending standards on the vehicles.
"There's a lot of support for our bonds," said John DeCero, president and cofounder of the company, which operates through its California Republic Bank subsidiary. "There are investors on Wall Street that would like to get the cash flow from that."
Prime auto lending has been a key driver of steady growth for California Republic, which also has branches in Newport Beach, Beverly Hills and Westlake Village.
What has also been a factor is the bank's "simple" set of services that includes commercial lines of credit and core deposits, and excludes loans considered cyclical, such as mortgages.
Growth
Growth has been relatively quiet and strictly organic for California Republic—qualities that have cut across the grain as Irvine has grown into a regional banking hub in recent years. Opus Bank, Banc of California, Pacific Premier Bank and Sunwest Bank all have set up headquarters in the city since 2011.
Opus and Banc of California have both been recapitalized in recent years, and each has grown to more than $3 billion in assets thanks in part to attention-getting acquisitions.
California Republic has had no mergers or acquisitions or outside capital infusions since its inception in late 2007, a debut that came on the front edge of the recent downturn and the hundreds of bank failures that would come within several years.
The mess of the financial crisis made room for many government-assisted acquisitions during and after the recession.
California Republic has managed its climb without any such deals. It ranked No. 6 on the latest Business Journal list of locally based banks and had nearly $800 million in total assets as of the end of September. That's a 36% jump from a year prior, and continues a trend of double-digit, year-over-year gains. Loans totaled $583 million, 21% higher than the year-ago snapshot. It also had about $28 million in revenue for the first nine months of 2013, up 59% from the same period in 2012.
The bank moved from Newport Beach to Irvine in January to accommodate a growing workforce.
Prev Next