California Republic's Drive Time
PRIME AUTO LENDING, 'SIMPLE' SET OF SERVICES BEHIND BANK'S GROWTH
Saturday, December 14, 2013
Share this article: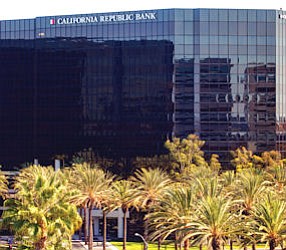 California Republic Bancorp took a brief turn in the public spotlight recently, drawing a nod from Wall Street when it sold about $247 million worth of notes backed by its car loans.
The November transaction was the Irvine-based bank's first public offering registered with the Securities and Exchange Commission. It followed two private deals in the past year or so and got strong marks from ratings agencies, reflecting prime lending standards on the vehicles.
"There's a lot of support for our bonds," said John DeCero, president and cofounder of the company, which operates through its California Republic Bank subsidiary. "There are investors on Wall Street that would like to get the cash flow from that."
Prime auto lending has been a key driver of steady growth for California Republic, which also has branches in Newport Beach, Beverly Hills and Westlake Village.
What has also been a factor is the bank's "simple" set of services that includes commercial lines of credit and core deposits, and excludes loans considered cyclical, such as mortgages.
Growth
Growth has been relatively quiet and strictly organic for California Republic—qualities that have cut across the grain as Irvine has grown into a regional banking hub in recent years. Opus Bank, Banc of California, Pacific Premier Bank and Sunwest Bank all have set up headquarters in the city since 2011.
Opus and Banc of California have both been recapitalized in recent years, and each has grown to more than $3 billion in assets thanks in part to attention-getting acquisitions.
California Republic has had no mergers or acquisitions or outside capital infusions since its inception in late 2007, a debut that came on the front edge of the recent downturn and the hundreds of bank failures that would come within several years.
The mess of the financial crisis made room for many government-assisted acquisitions during and after the recession.
California Republic has managed its climb without any such deals. It ranked No. 6 on the latest Business Journal list of locally based banks and had nearly $800 million in total assets as of the end of September. That's a 36% jump from a year prior, and continues a trend of double-digit, year-over-year gains. Loans totaled $583 million, 21% higher than the year-ago snapshot. It also had about $28 million in revenue for the first nine months of 2013, up 59% from the same period in 2012.
The bank moved from Newport Beach to Irvine in January to accommodate a growing workforce.
185 Employees
California Republic now has about 185 employees, up 70% over the past year. It more recently added space at its Irvine Towers headquarters, where it now occupies 2 1/2 floors.
DeCero said the company looks to its auto loans as "a consistent earnings and assets generator" and a "safe" way of investing customer deposits.
"We're not a luxury-car lender—we're not doing Ferraris," he said. "We're doing everyday primary vehicles that people need to live their lives and get to their jobs. That's our focus and our target."
Another key to the bank's growth is its deep base of noninterest-bearing deposits, DeCero said, referring to money that's available to a bank for investment at relatively low cost, such as checking accounts.
"We see noninterest-bearing core deposits as an important indicator of the strength of a bank," DeCero said. "If you pay high-price deposits, you can bring in a lot of money. We're just talking about core operating deposits from clients. We have $412 million of that."
That's about 56% of the bank's total deposits, which topped $733 million as of the end of September.
"Deposits, if they sit there as cash, don't do anything for a bank," DeCero said. "Banks are having a difficult time investing their deposits today because there's not a lot of loan growth out there. We've found a vehicle that we understand very well."
DeCero and the other cofounders of California Republic—Jon Wilcox and Mark Rebal—have years of experience in commercial banking and car loans, including their stints at auto-oriented financial services firm Westcorp Inc. in Irvine. Westcorp was acquired by Wachovia Corp. in 2006 for $3.9 billion.
Wilcox currently is California Republic's chief executive, and Rebal is chief credit officer.
"We've been in [the auto financing industry] for 30-plus years," DeCero said. "We think it's a great product to be in."
The team started California Republic with $52 million in capital, without using "institutional money," and "totally" aware of the looming financial crisis.
"We knew this was going to happen," DeCero said. "In 2006, when we were at the previous bank … we saw that things were way overheated, not only in the mortgage markets, but the commercial markets, the construction markets and land development. We could see there was a bubble there."
Clean Slate
It helped that California Republic had fresh capital and a clean slate heading into the recession.
"It was a very good time for us in that we were open for business and we were lending," while financial institutions broadly were struggling with bad loans and falling profitability, along with a standstill in lending activity.
"There were some major customers that came to us [when] they couldn't get a loan anywhere else," DeCero said. "They had terrific credit and great collateral."
Big borrowers at the time included Aliso Viejo-based software maker Quest Software Inc., which came to California Republic to finance its headquarters, according to DeCero.
Post-recession business has been "better than any other years," he said, adding the bank's improved technology has been a "big help."
"We've invested millions of dollars last year and this year in auto-lending platforms," DeCero said. "And we've built a call center in Las Vegas. … That was a big investment."
Near-term plans for California Republic include opening a branch in La Jolla to help bolster its business in San Diego.
Future
It could also look at possible mergers and acquisitions, but "it would have to be an acquisition unlike those that are done today with distressed banks," DeCero said. "We're not opposed to acquisitions altogether. It would have to be a high-quality bank with strong credit, most likely similar in size to our bank."