Wet Seal Shares Sink on Red Ink for Holiday
Thursday, December 5, 2013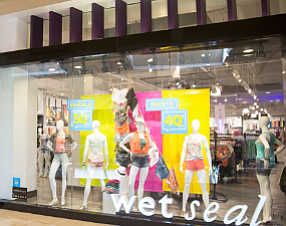 Foothill Ranch-based Wet Seal Inc. joined a string of fellow retailers in reporting disappointing guidance for the current quarter on Wednesday.
Investors sent shares of the teen and contemporary retailer down about 14% in afternoon trading Thursday, a day after the company released its January quarter guidance and results for the three months through Nov. 2. Wet Seal had a market value of $231.71 million.
The company operates 471 Wet Seal stores for teens and 59 Arden B stores for young women.
The company said it expects a loss in the range of $11.76 million to $14.28 million in the January quarter, missing the $840,000 profit analysts expected.
Wet Seal expects net sales for the current quarter to be in the range of $134 million to $137 million. That's down from the $161.7 million in sales the company reported a year earlier and off from the consensus estimate of $154.52 million. The same quarter in 2012 counted one extra week compared to this year.
Same-store sales are estimated to be down in the high-single to low-double digits.
Wet Seal had an adjusted loss of $9.9 million for the quarter ended Nov. 2, in-line with consensus estimates.
Net sales for the November quarter were down 5.76% to $127.7 million, missing analyst estimates of $134.49 million.
Same-store sales were up 0.8%, led by a 1.7% increase in comparable sales for the Wet Seal division. Arden B weighed down the overall figure with a 6.7% decline in comparable sales.
"We believe the business is well-positioned for holiday with on trend merchandise assortments, innovative marketing programs and an enhanced e-commerce site that has significantly improved the customer shopping experience," Chief Executive John Goodman said in a statement. "Nevertheless, we've had a challenging start to the season, reflecting the difficult macro environment and ongoing softness in mall traffic, which is causing us to maintain a cautious outlook for the remainder of the year."
Goodman's sentiment is felt throughout the industry.
Action-sports retailer Tilly's Inc. of Irvine cautioned Wall Street last week with a current quarter outlook that also fell short of analyst expectations.
Retailers have struggled with slow foot traffic leading into the holiday selling season and the Black Friday kickoff weekend proved not as strong as some retailers would have liked.
Teen retailer Aeropostale Inc. of New York closed down 4% on Wednesday after missing analyst targets on its third-quarter earnings.
Columbus, Ohio-based contemporary retailer Express Inc. plummeted 23% on weaker-than-expected sales for the Thanksgiving weekend selling period.
"We had been planning for a promotional holiday season but we now expect the intensity of those promotions to reach heightened levels and we are updating our full year guidance accordingly," Express Chief Executive Michael Weiss said in a statement.